When inside an application, you can navigate to any other SchoolData.net application. The icons associated with each application appear in the Application Navigation Panel at the top of the browser window on both the left and right-hand sides. Hovering gives the user information about the application/suite, and clicking Enter will direct the user to the application.

On the left side of the bundle selector, just above the application name, you'll find the company brand and the bundle badge of the application you are currently in; next, you'll see application icons for all the applications in the bundle.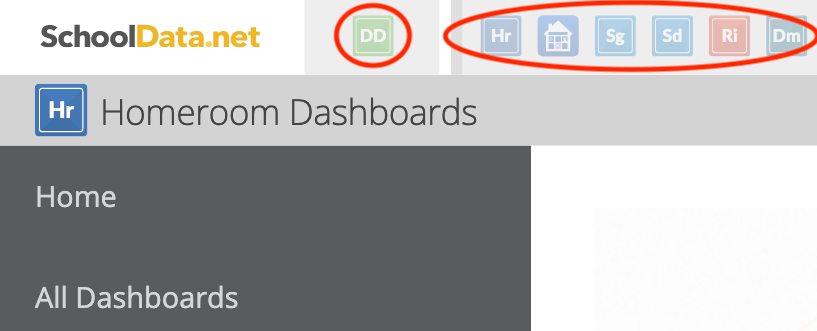 For instance, if you are in the Homeroom Dashboards application, you'll see the icon for the Dashboards and Distributions bundle, then the other icons for the additional applications included in the bundle: Homeroom Dashboards, Student Group Manager, Student Data Grids, Risk Indicators, and Distribution Manager.
Bundle Navigation
To navigate to an application in a different bundle, you'll need to look to the right side of the header navigation bar for the list of icons for all other SchoolData.net bundles of applications.

If you hover over a bundle icon, it will show you a drop-down menu of applications in that bundle, along with a description and a Launch App link that will open the application in another browser tab.
If your district subscribes to the application, it will be available. If not, you will see some information about the application and directions on requesting a demonstration. For more information, visit https://schooldata.net/
Available Bundle Applications:
DASHBOARDS AND DISTRIBUTIONS BUNDLE

Homeroom Dashboards

Risk Indicators

Student Data Grids

Student Groups Manager

Data Distributions Manager

HIGH SCHOOL AND BEYOND BUNDLE

High School and Beyond

Career Planner

Four Year Plans

Future Ready Skills

Graduation Monitor

Readiness Indicators

Test Prep

STUDENT PLANS BUNDLE

504 Plans

Highly Capable

Individual Health Plans

Intervention Plans

HUMAN RESOURCES BUNDLE

Employee Records

Evaluations

Jobs

Professional Development

ReadySub

Volunteers

DATA EXTRACTS BUNDLE

Chart Dashboards

Charts

Data Tables

Key Performance Indicators

Notification Letters

Reports

School Improvement

ADMIN BUNDLE

Data Administrations

Data Access Permissions

Student Details Manager

ATTENDANCE COMPLIANCE BUNDLE

Absence Alerts

Absence Response

Meeting Needs

Roll Call

ALTERNATIVE LEARNING
ALE
CLASSROOM

Classroom