The February 2019 release of Homeroom Enhanced encompassed numerous enhancements, bug fixes, and specific customer requests. Following is a summary of the major enhancements released on February 1, 2019.
Student Groups
Student Groups V1 was incorporated into the SDS Enhanced Dashboards. It appears at the bottom of each standard dashboard, and allows for the creation of student groups using the V1 widget while utilizing V2 Dashboards.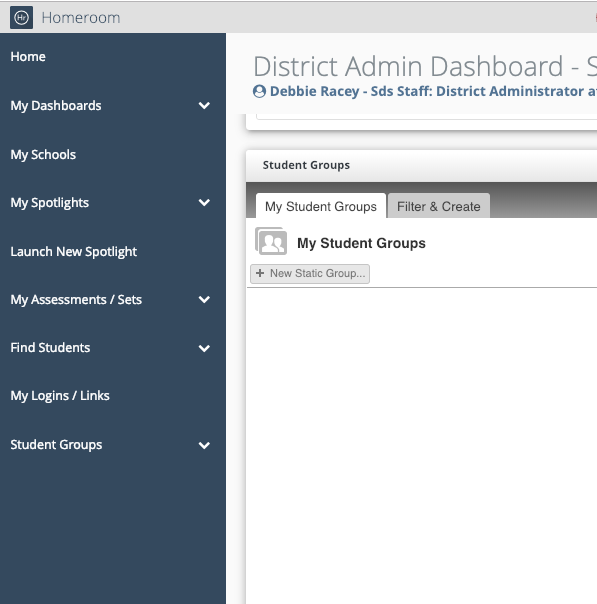 Program Spotlight
The Program Spotlight in the Launch New Spotlight section allows for selection of a specific program and will result in a view that shows students who are enrolled in that program.
Click Launch New Spotlight from the left navigation bar
Click Program
Choose a service from the list

Impersonation
Impersonation options have been increased. Selecting the person icon will allow the user to either use the Person Aliases or select a specific user for impersonation.
Click your name at the top right of the screen (if no impersonation options, contact support@schooldata.net, though this is only for specific users at a district)
Click the person icon
Select an Application Username or Alias by clicking the checkbox next to it
Click Go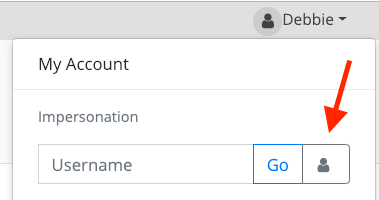 NOTE: with the Application User list, you can filter by user name, or by using "true" to find users with specific role.
Role Descriptor Expansion
The role descriptor for the user has been expanded, and will note "mis-matches" between user role and dashboard selected. Example: 1st Grade Teacher who selected the Elementary School Principal Dashboard.

Additionally, with mis-matches a container will appear that gives the user options. They can close the container with the "X" and continue with the dashboard. Any user can view any dashboard.
The information presented will be limited by their role and students for which they have access.


Added Specialists Dashboards
SDS Dashboards were added for Specialists at the Elementary, Middle School and High School levels. Users with the role of Specialist will be re-associated to these dashboards. The dashboards are replicas of the principal dashboards, as they share the same type of whole school data needs.