Purpose:
Four Year Plans (FYP) are an important step in planning a students future. It should be a collaboration between students, guardians, and educators, not only when creating the plan, but as students follow the path. To that end, we allow an educator to Lock a students Primary FYP when all the collaborators believe they have established an appropriate primary plan. Having a student come to the educator to request the plan be unlocked allows the educator to engage in a conversation that can help guide the student as they make changes. The educator can then bring the guardian into the discussion as well.
Four Year Plans can be a planning tool for Educators as well as students. Locking student's FYP can be a way of saying 'I've worked w/ the student and we are satisfied the FYP is complete'. The educator's list of students shows the status of students' FYPs, so the educator can plan which students still need help 'finalizing' their plans. Administrators may also want to view the courses students are planning on taking next year. If the majority of student plans are locked, the data is more likely to be accurate.
As we all know, FYPs are a multi-step process and thus should be viewed and updated as the years progress, so we've ensured educators have ways of unlocking multiple student FYPs.
Directions to Lock an Individual Plan:
Four Year Plan Application

Application Navigation: Four Year Plans >> My Student Plans

Column: Is Locked

Click on the blue "No" to turn it to "Yes"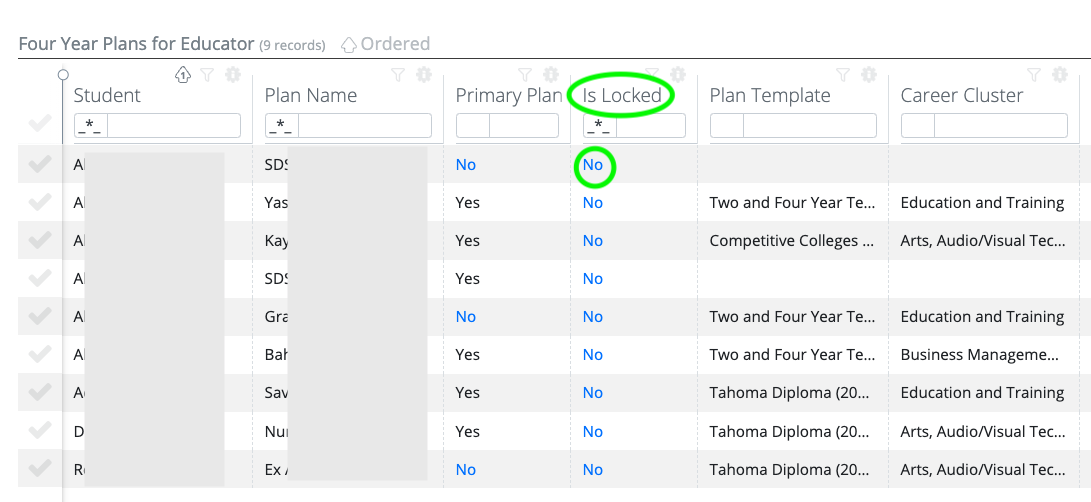 After clicking on the blue "No" you will see it turn into a blue "Yes"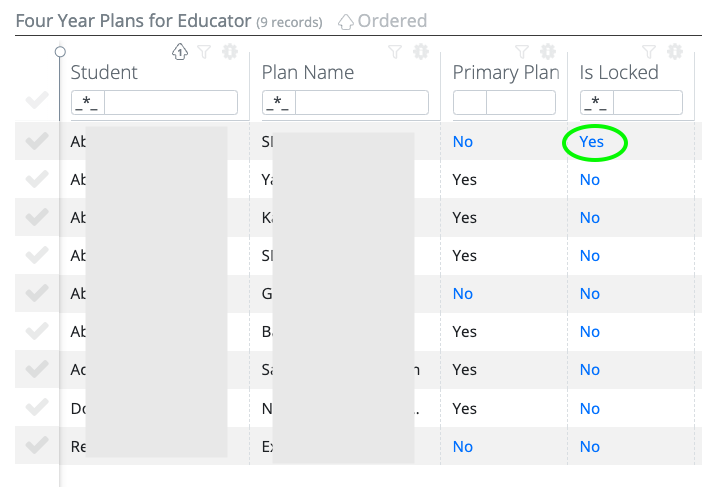 Directions to Lock a Multiple Plans:
Four Year Plan Application

Application Navigation: Four Year Plans >> My Student Plans

Click on Top Checkmark to select all plans

Click "Select Row Actions" >> Lock Selected Plans