Each month, after a determination of Monthly Progress has been made, some parents will receive a notice via email that their student has Monthly Progress that needs to be reviewed. The notice will come in the form of an email from School Data Solutions with a link to login to their student's Monthly Progress. Parents with multiple students will receive an email for each student. The email will be similar to this one with their own school's information displayed.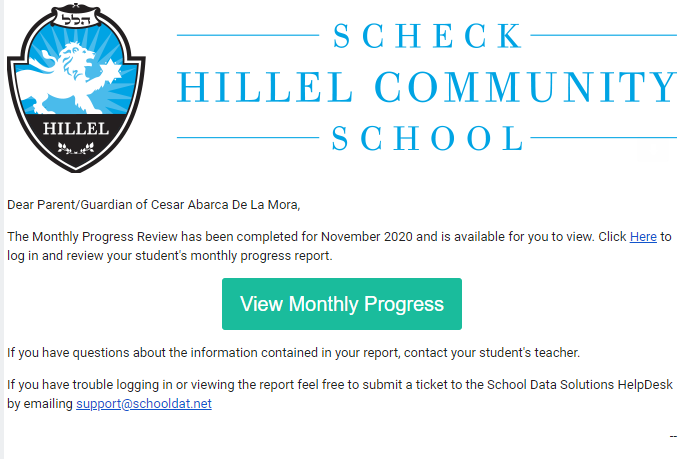 Parents should click on the button in the email. They will then be directed to login and will be taken directly to the Monthly Progress page. Next, click the row action gear for the appropriate month and select "View Monthly Progress".

Once on the View Monthly Progress page, parents will need to check the box for "Parent Received Progress Determination". They can then enter any comments they have in the "Parent Comments" box before using one of the following...
● Save: If you would like to continue adding more notes, but keep the window open
● Save and Close: If you would like to exit, but continue adding more notes later
● Complete: If you have added all the necessary notes for monthly progress review, clicking this button will record that you have reviewed Monthly Progress Determination

The "Parent Acknowledgement Date" will be filled in automatically when it has been submitted as "Complete".