Highly Capable Release Notes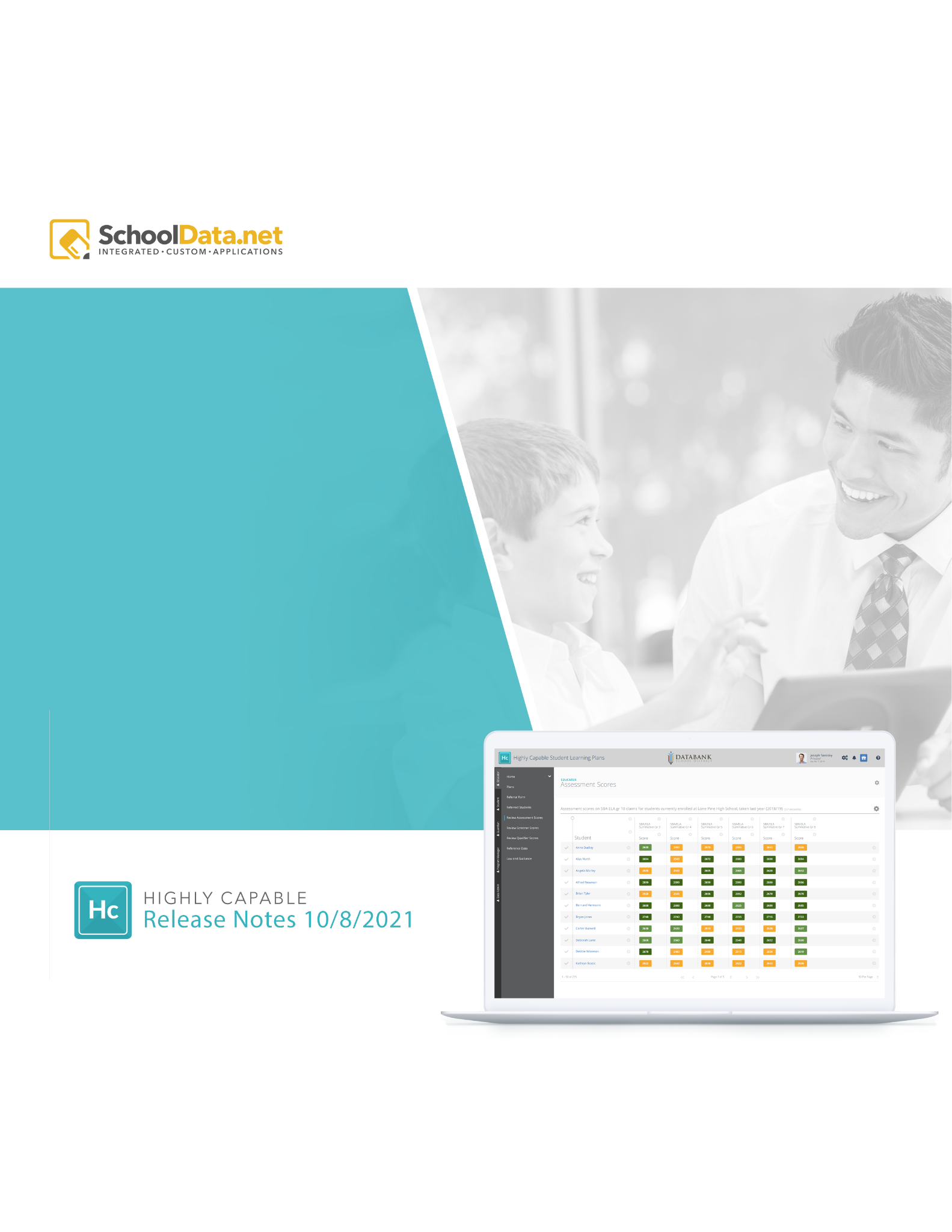 ---
Introduction
Overview
In the following document we will highlight the various improvements that we have made to our application Highly Capable, located in our application bundle "Student Plans".
https://schooldata.net/suite/applications/highly-capable/
New Features
HCSLP-27
Implement Law in Hicap
Users are now able to view laws created by OSPI in the Hi-Cap application under the "Reference Data" section.

---
HCSLP-36
Add Selected Rows Action to Print Hi Cap Plans
Users are able to print a student's Hi-Cap plan from the main "Plans" page. Once a user selects the student, a "Select Action Row" item will appear and users will be able to select the option to print these Hi-Cap plans.

HCSLP-52
Add selected Rows Action to "Assessments Scores/Screener Scores" page to "Refer Students"
Users are able to refer students from the Assessments Scores and Screener Scores sections.

---
HCSLP-49
Please Add Ability to Upload Documents Under Evidence
Educators are now able to upload documents into the Evidence section when creating/editing tasks.

---
Improvements
HCSLP-46
Add Grade Level and Enrolled School to Details Page
Users are now able to see what grade level the student is in and what school they attend in the details section of the student's Hi-Cap plan.

HCSLP-31
Add Instructions to Referred Students Page
Instructions have been added to explain information regarding Referred Students.

---
HCSLP-35
Add Current Hi Cap Enrollment to Referred Students table in Hi Cap
Users are now able to see if a referred student is currently enrolled in the Highly Capable program.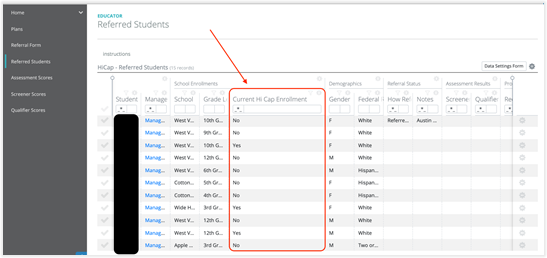 ---
HCSLP-40
Ability to Pull Advisor/Teacher from SIS When Creating HCP
When creating a Hi-Cap Plan, the responsible educator will be automatically assigned (from the advisor field in the SIS) upon saving.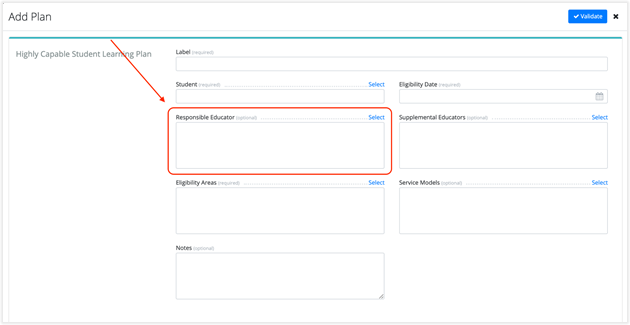 ---
HCSLP-47
Add Client Side Filter on Assessment Column to show current and last year assessments by default
When users view the Scores tab in the Students Hi-Cap plan, the Year column now automatically filters to display current and the previous year's scores.

HCSLP-48
Please Add Field and Column Indicating if Goal Was Met/Not Met
Educators are able to indicate whether a student did or did not meet the intended goal.

---
HCSLP-50
Add Selector to Referred Students Page to capture "How Referred" data point for state reporting, plus "Notes" text box
Users are able to determine how a student was referred by selecting from a list of possible referral methods.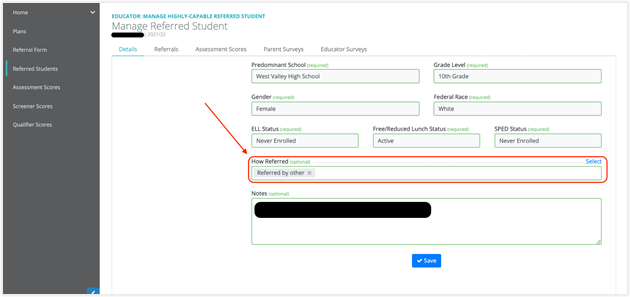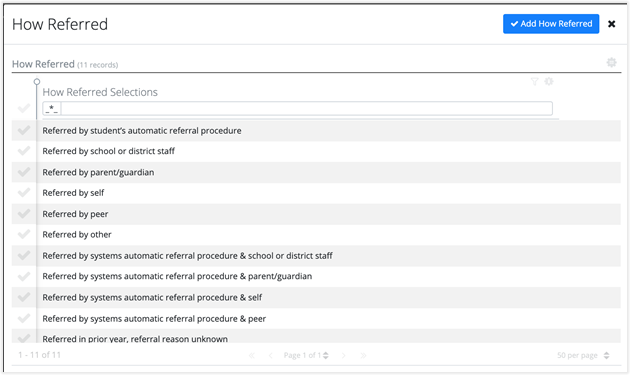 HCSLP-51
Add New SdsSelector to the Task Section
Users are now able to create a goal and add a task along with that goal in one pop up view.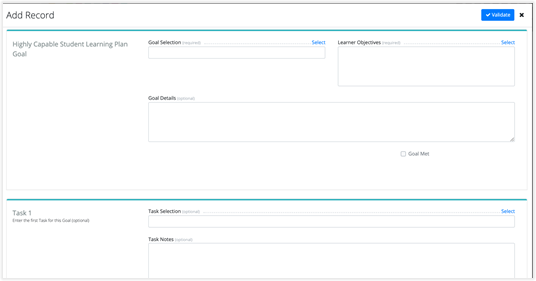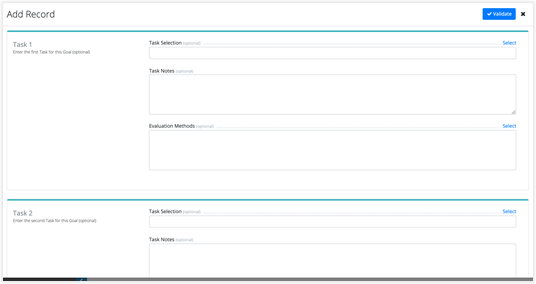 HCSLP-55
Add row action edit for Automatic Assessments
Users that have the Data Admin role are now able to edit the Automatic Assessments.

HCSLP-64
Updates to DataTableData For HiCap_StudentAssessmentTestScores
A few adjustments have been made to the Assessment score table: Scores are now color coordinated (green, red, etc.) and more columns are included such as Gender, Ethnicity, race, school, grade level, and services.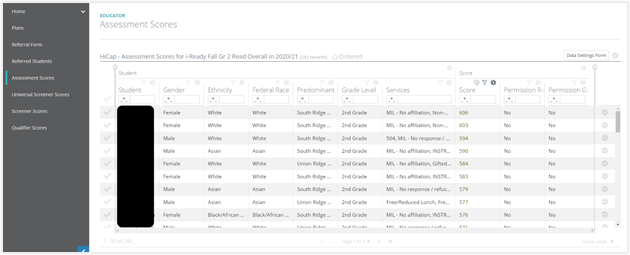 HCSLP-62
Multiple Referrals to be Nested In One Place
The "Referred Students" section now displays only one referral. To view if a student has been referred by multiple educators, users will select: Manage>> Referrals tab.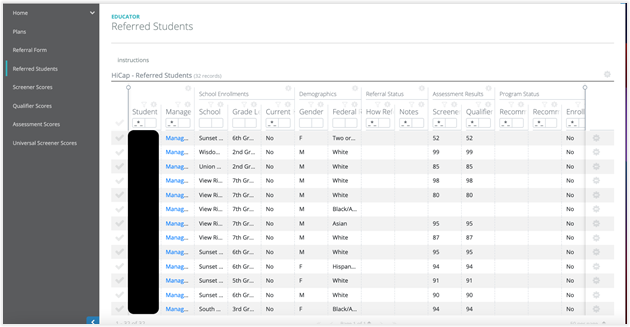 HCSLP-65
Create HiCap ApplicationUserRole that must be assigned to users to provide access to Hi Cap App
Users now must be given access via a Highly Capable Application User Role in order to access the application.