Quick Links
The High School and Beyond Plan is a graduation requirement for every student. It's a process for students, parents, and teachers to guide students through high school and think about their future. Plans are personalized and designed to help students set, visualize, and work to achieve goals.
Our High School and Beyond Bundle contains many valuable features that allow students to investigate careers, take self-assessments to understand their personalities better and build their resumes to prepare them for the leap after high school.
To review your student's High School and Beyond Plan progress, log into https://[STUDENTSDISTRICT].schooldata.net/v2/high-school-and-beyond/#/parent
NOTE: Each school district has a unique URL for the High School and Beyond application. Where the instructions show an address like "yourdistrict.schooldata.net," you'll insert your district's name in place of the bolded type, such as "seattle.schooldata.net."
To log in, type in your Username or Email and Password and Sign in. The first time you log in or if you have any trouble logging in, you will need to Reset your Password found in the bottom left corner.
You will be asked for your Username or Email - for most parents, your username is your email address. Enter the email address you provided to the school and click Send Verification Code.
Check that email address for a message from School Data Solutions. Be sure to check your spam folder, as sometimes the auto-generated emails are routed there.
Copy and paste or enter the Verification Code you receive from your email into the verification screen. Once verified, Create a Secure Password. Passwords are not stored in the system. Contact your district's School Data Solutions Administrator if you need help with a username or password.
Logging onto High School and Beyond presents a Home Page with easy navigation for the user. In addition, the left navigation menu has been designed to explain various actions.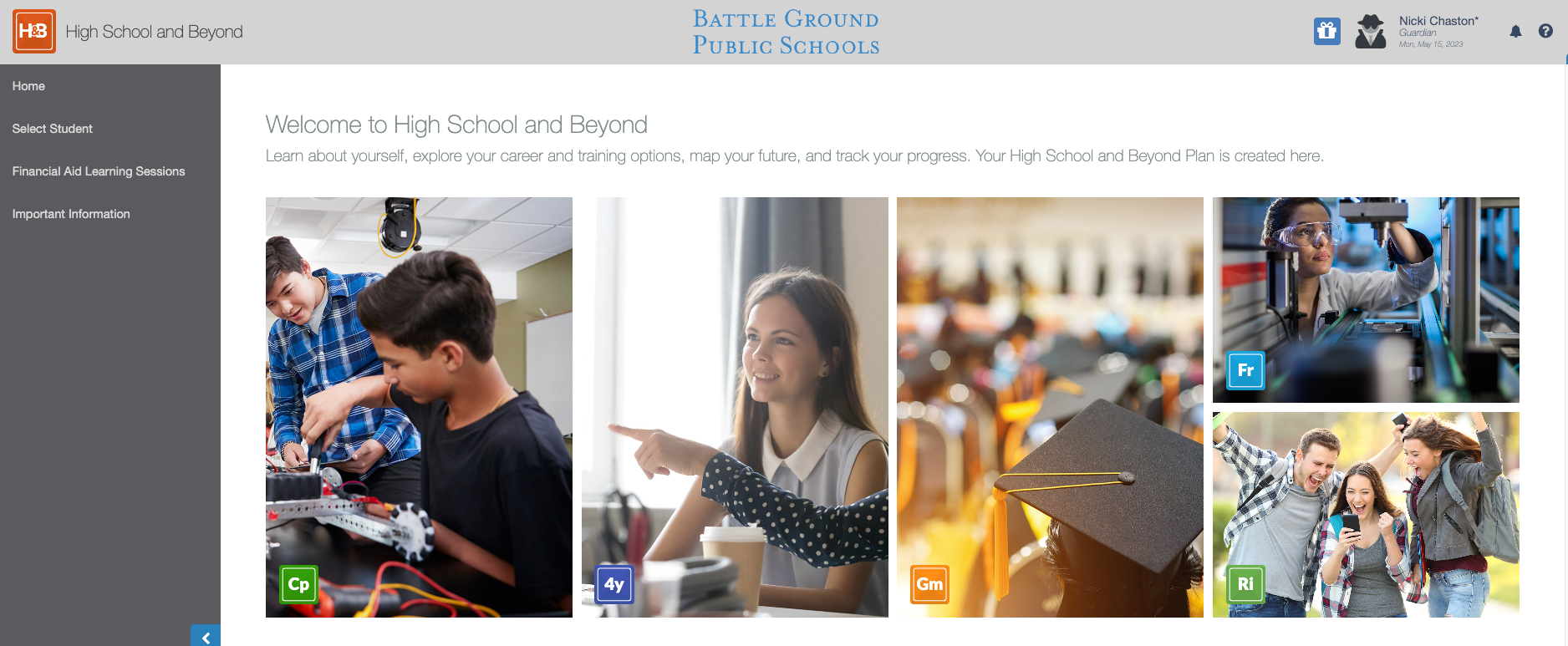 Select Student (back to

Quick Link

s

)
By clicking Select Student in the left navigation pane, Guardians can select their student(s) to review the work their student(s) have completed for their High School and Beyond Plan. Guardians will be presented with a list of their student's names. Each name is a blue hyperlink; once clicked, the hyperlink will display more information for that specific student.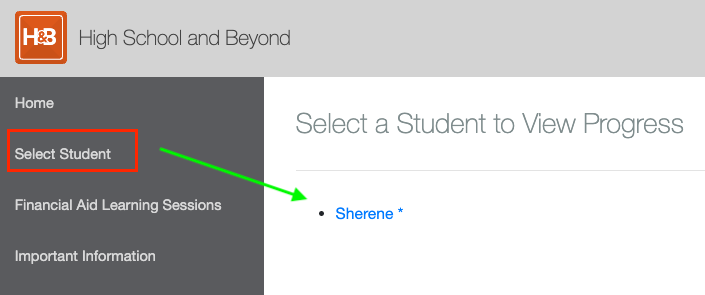 High School and Beyond: Tasks (back to

Quick Links

)
The first page presented will be the student's High School and Beyond Task Page. On this page, the district has identified all of the High School and Beyond activities students should complete per grade level.
The Meter icon to the right of each task indicates the student's progress.
The

Grey

meter indicates that the student still needs to finish the task.

A Green checkmark means the Educator has marked this task as "Approved," and the student has completed/finished the activity.

A Red checkmark means the Educator has marked this as "Revisions Requested," The student needs to go back to the activity and make edits.

An Orange checkmark means the student has marked this activity as "Complete," and it is pending approval/review by the educator.
Tab: High School and Beyond: Assessment Scores (back to

Quick Links

)
Hover over the High School Beyond Tab and select Assessment Scores to review Assessment Completion.

Tab: Career Planner

(back to

Quick Links

)
Guardians can hover over the Career Planner tab and click Portfolio. This will display what the student has accomplished in this specific application.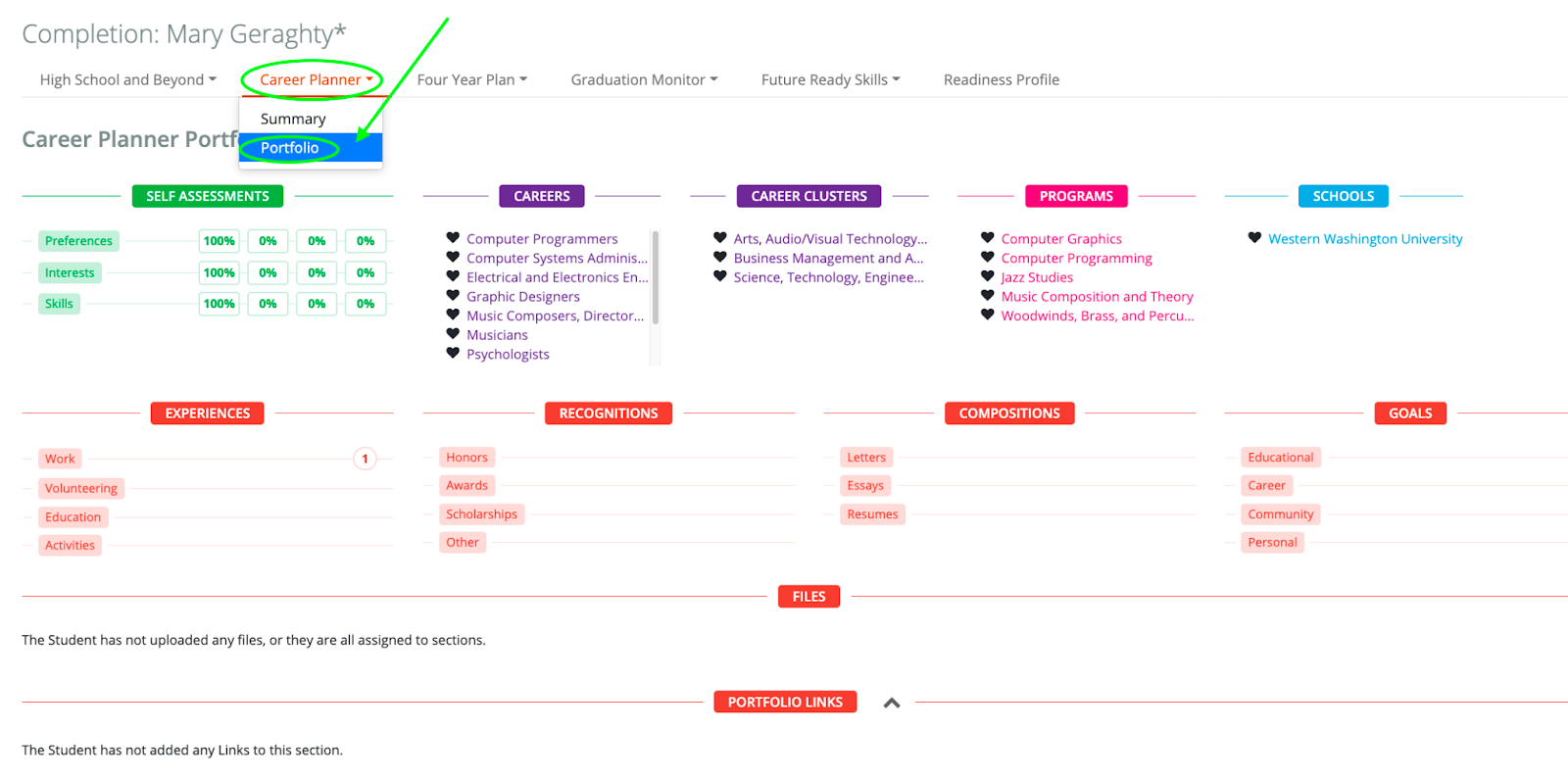 The Self-Assessment section will display how many attempts the student has taken and their completion by percentage.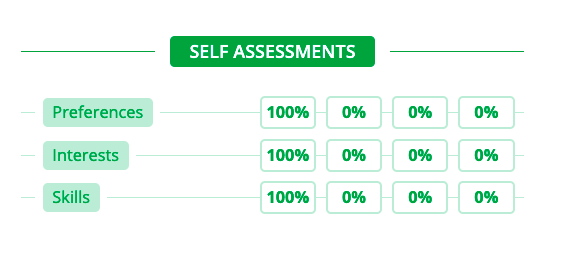 Under the Careers, Career Clusters, Programs, and Schools will display the careers/institutions the student has Hearted (Favorited).

The Experiences, Recognitions, Compositions, Goals, and Add Files are further tasks completed in the Career Planner.

Tab: Four-Year Plan (back to

Quick Links

)
Here is where a Student can create/review what has been done in the Four-Year Plan application. There will be several views by hovering over the tab: Four Year Plan.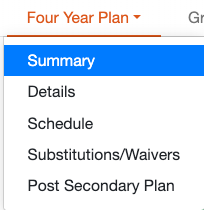 The summary displays the student's progress in finishing their Four Year Plan.
Details display specific information the student enters, including their Plan's Name, Preferred Career, Graduation Pathway, and Post-Secondary Plan.
The Schedule displays what courses the student planned vs. the actual schedule.
Substitutions/Waivers
Post Secondary Plan

Reflection Questions - What am I? What can I become? How will I become that?

Post Secondary Plan: Personalized Pathway - What is your plan after high school graduation?

Experiences - Work Experience, Internship/Activities/Leadership, Awards
Tab: Graduation Monitor (back to

Quick Links

)
By hovering over the tab Graduation Monitor, Guardians can view their student's graduation credits per subject.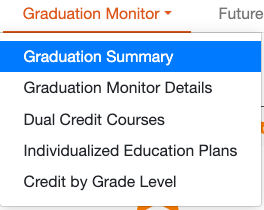 The Graduation Summary displays a Graduation Tracker Bar. The bar displays where the student currently stands credit-wise. (Completed, Scheduled, Planned, Anticipated, Needed, Waived, Manual) In addition, next to each subject is a black number (Ex: English 4) showing how many credits are required per subject to Graduate.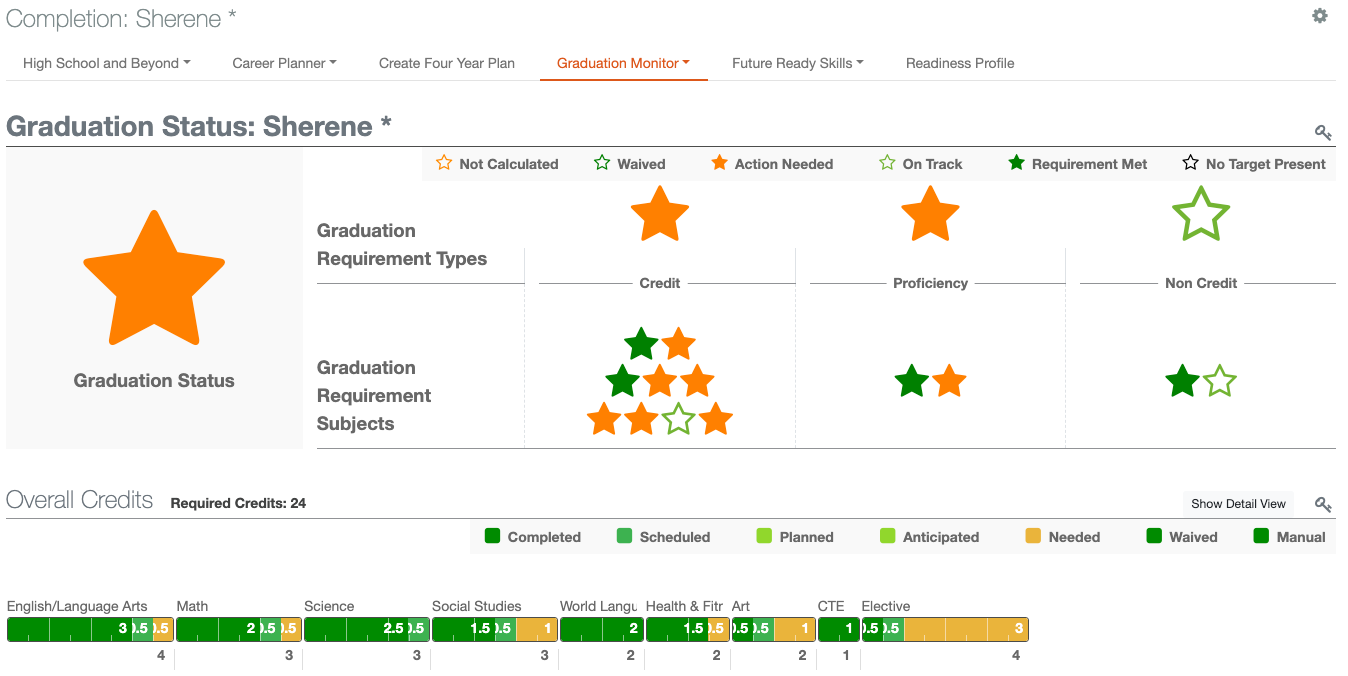 The Graduation Monitor Details will list the student's credits in a data table format. To view the courses/details, Educators can click on the down arrows to the subject's left.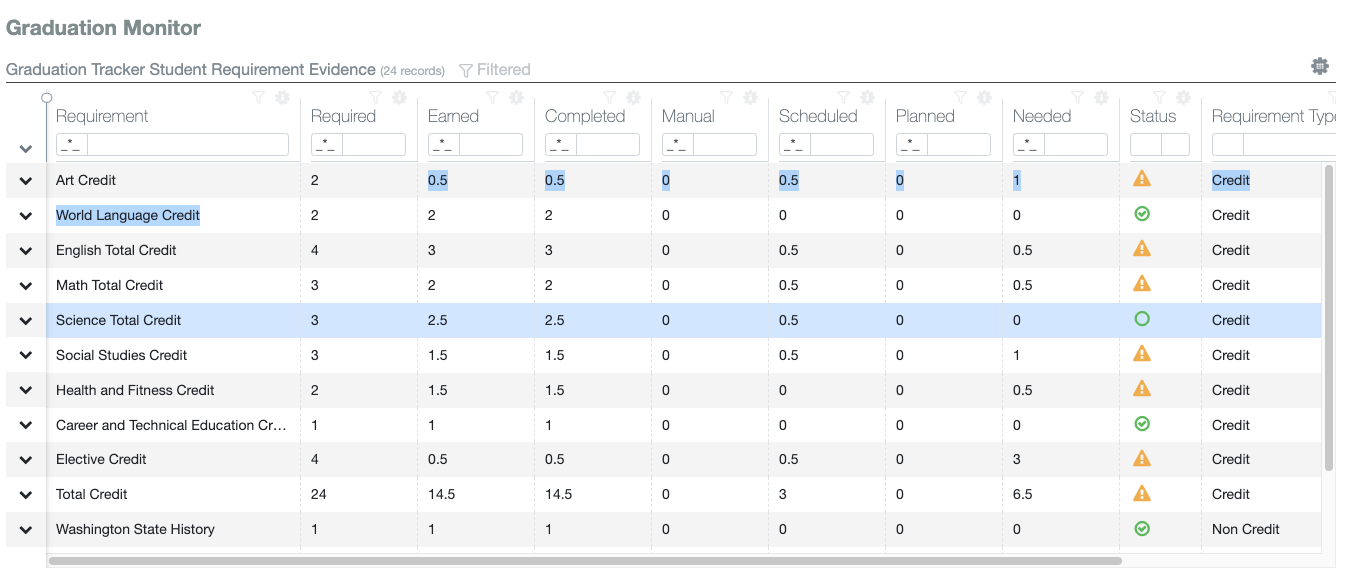 Calendar Learning Sessions (back to

Quick Links

)
When looking at the Calendar Learning Sessions, Guardians can see upcoming events. To see the event's details, Guardians must click on the event, and a pop-up will appear.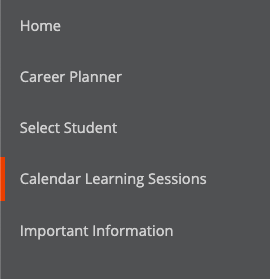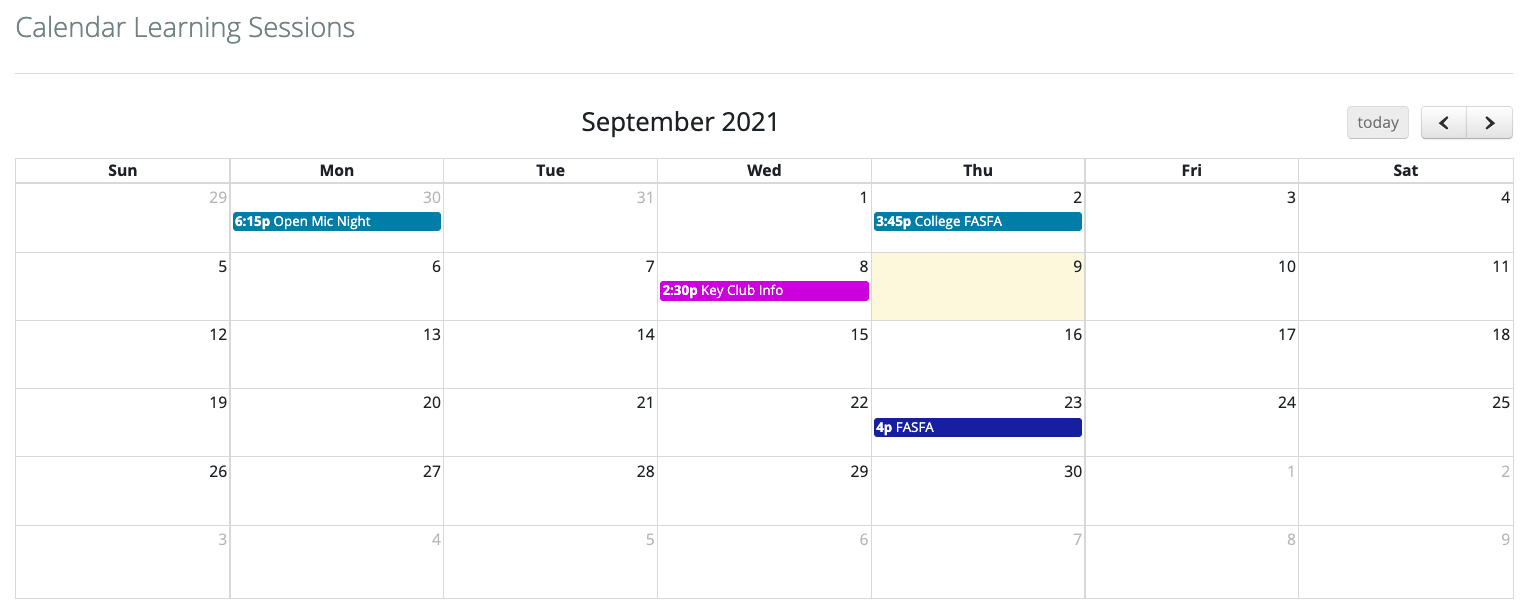 If you have any questions, please contact our Helpdesk support@schooldata.net or call (509)688-9536.