ALE: Managing ALE Course Code Associations
In the ALE Application, if more than one State or SIS course code is assigned to a single course, there is a utility that will allow you to define exactly which course code should be used for which student grade level. For example, if a single Piano course is available for students in grades 4-7 and both the WA0007 and WA0006 course codes are utilized, this utility will let you assign grades 4-5 to the appropriate elementary course code and grades 6-7 to the middle level code.
This association will be utilized to determine which course code to utilize for a student when courses are added directly to a student learning plan through the "Add Course" process or when subject/course records are created as a result of enrollment in a class.
This task can be completed on the Data Admin role and the link is currently only available to districts who have requested it. If this is a feature that you will use, please contact us at support@schooldata.net to request we enable the link for you. ***These associations cannot be retroactively applied to existing Student Learning Plans, but once established will be utilized for any courses added to plans in the future.
Managing the Associations
Once activated, you will see the link in the left nav on the Data Admin role, called "ALE Course Associations."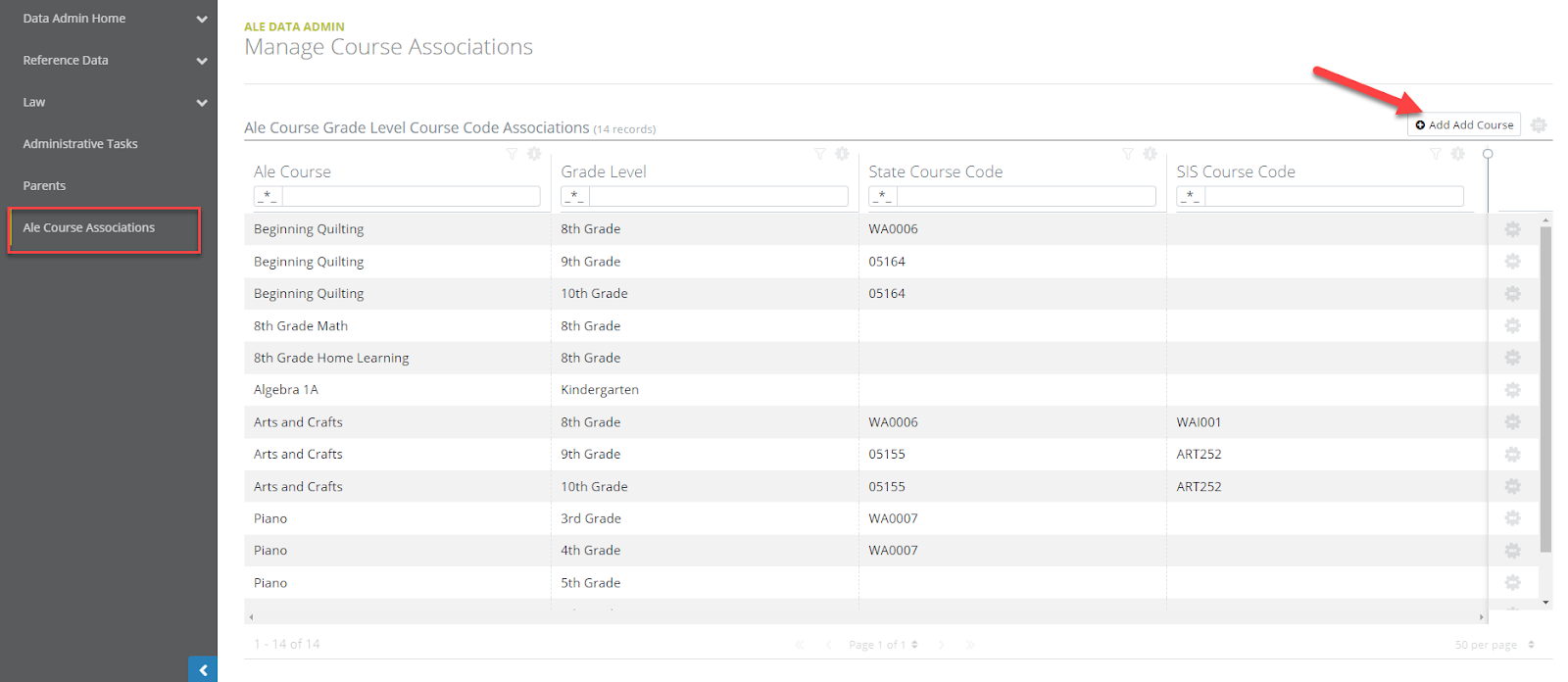 Courses that have been created since this feature was implemented that are assigned to multiple grade levels will automatically be assigned to this table. Otherwise, to add a previously created course, click "Add ALE Course" in the top right corner.
One line will be added per grade level, per course added. If a course has grades 4, 5 and 6 associated, you will see it listed three times in the table. Using the row action gear and choosing "Edit" will open a form to make the necessary associations.

The form will list the course and grade level you are making associations for.

You will be able to "Select" a State Course Code and a SIS Course Code to associate to this course/grade level combo. Your choices will be limited to those State Course Codes and SIS Course Codes that were chosen when the course was created.

Only one selection is allowed in each field.
In this example, a Piano course that spans grades 3-7 and has both the ELEM (WA0007) and JRHS (WA0006) course codes assigned has been set up to correctly associate the State Course Code based on the grade level of the student:

In this example, an Arts and Crafts Course for grades 8-10 has been set up to correctly associate the non-rigor course code for 8th grade students, while the older students will be assigned the credit-bearing code. Codes from the SIS have also been assigned. SIS Course Codes are not utilized in learning plans or in any logic at this time, but this data and the associations established here can be used for creating reports.
If none of the above tools are utilized, the previous logic is still in place. If a course is associated with multiple State Course Codes, typically the first code on the list is the one selected by default, regardless of the grade level of the student.