Purpose
Goal-setting is an essential step in the path to success and is also a common beginning-of-year and/or term assignment. Because planning for success requires development in multiple areas of life, students can create four types of goals:
Educational
Career
Community/
Personal
Finding the Goals Section
Goals are created in Assemble My Portfolio. To get started, click "Assemble My Portfolio" in the left-hand navigation bar.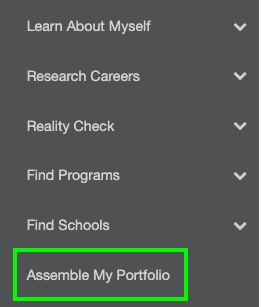 Find "Goals" in the header bar or red section grid, then click the type of goal you want to create.

Creating a Goal
A button with the option to add a goal will show up in the top-right corner. Click this to start your goal.

Fill out the web form with:
Title: Give your goal a name that makes it easy to recognize
Grade Level: Choose your current grade (or, if you are making a goal for next year, your future grade level)
Goal: Explain your goal. It is a good idea to write out a summary of your goal first, and support it with important details and examples. Below are some example questions to consider as you write out your goal.

What will you do to reach your goal?
What is your deadline or time range for completing this goal?
How will you track your progress and know you have reached your goal?
Who can support you with this goal? What are some other resources you can use to reach your goal?
How will achieving this goal support your success in academics, in your career, in your community, or in your personal life?

Comments: Include any other important information about your goal and your plans.
Fields with asterisks (*) next to them are required.

Click
"Save" to finish. You will now see your goal listed. To edit or delete your goal, click on the
(gear) icon, then make your selection.