Purpose:
For users who have a similar purpose for Student Data Grid data, one user can create the Data Grid and copy it to the other users.  This will save time for all the other users who can then run the Data Grid at their convenience.  The copy of the Data Grid can be modified if necessary by the user it was copied to.  These modifications are contained in the copy only.  The original Data Grid will remain unchanged.
A user may even copy a Data Grid to themselves.  For example, a District Administrator user may need a similar Data Grid for Elementary, Middle and High Schools.  Once the Elementary Data Grid is created by the user, it can be copied to themselves.  The copy can then be modified for Middle school specific data columns. The Middle school Data Grid can then be copied and modified for the High School. This can save the District Administrator considerable time as each Data Grid does not have to start from scratch.
What you'll need:
A Student Data Grid
Copy 'My Student Data Grid' To Another User:
From Student Data Grids Home Screen, choose My Student Data Grids from the left navigation bar.  This will show all the Student Data Grids a user has created.

Click the copy icon, it looks like two pieces of paper

. 
Verify the name of the Student Data Grid to be copied and click the Select button. 

Find the Application Users you want to copy it to, click the + button next to their names, and when you've found them all, click the Add Application Users button.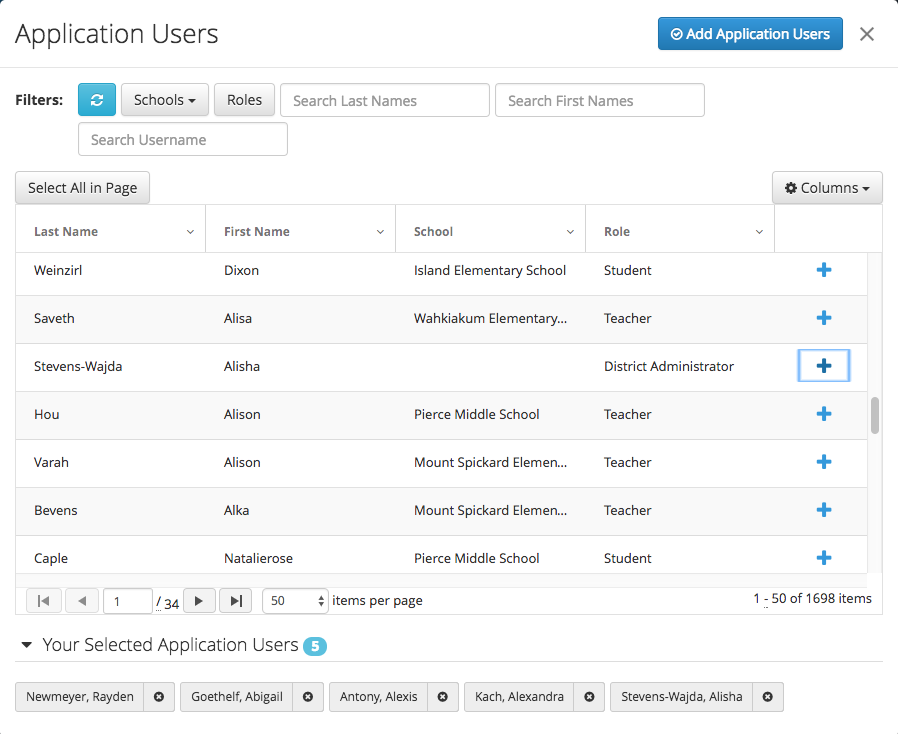 The last step is to verify the users, then click Copy.