The Evaluations V2 link has to be added to the Logins & Links widget individually by each user. Once you are logged into Homeroom, follow these steps:
1. In the Logins & Links Widget, click the + sign.
2. Then, choose Login.
3. Then, in the next screen that opens click the drop down that says "choose".
4. In the drop down highlight Evaluations V2*.
5. Then just click Save; there is no need to fill in username or password since we program both applications and it uses the same for each.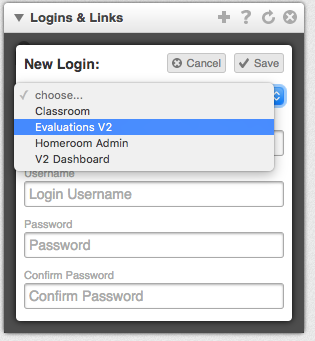 6. Once it is added it will have a lock next to it showing it is a Login type.
7. Click the "Evaluations" login that now exists to log you directly into Evaluations V2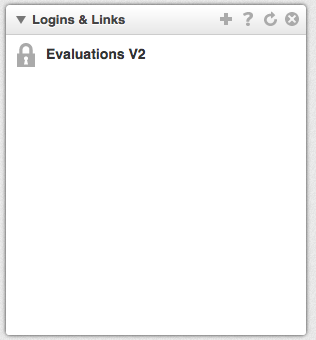 *If you do not find Evaluations V2 in the drop down, please contact support@schooldata.net to have it added to your district's setup.
[updated 8/1/17 - dmr]