How to troubleshoot speaker or microphone issues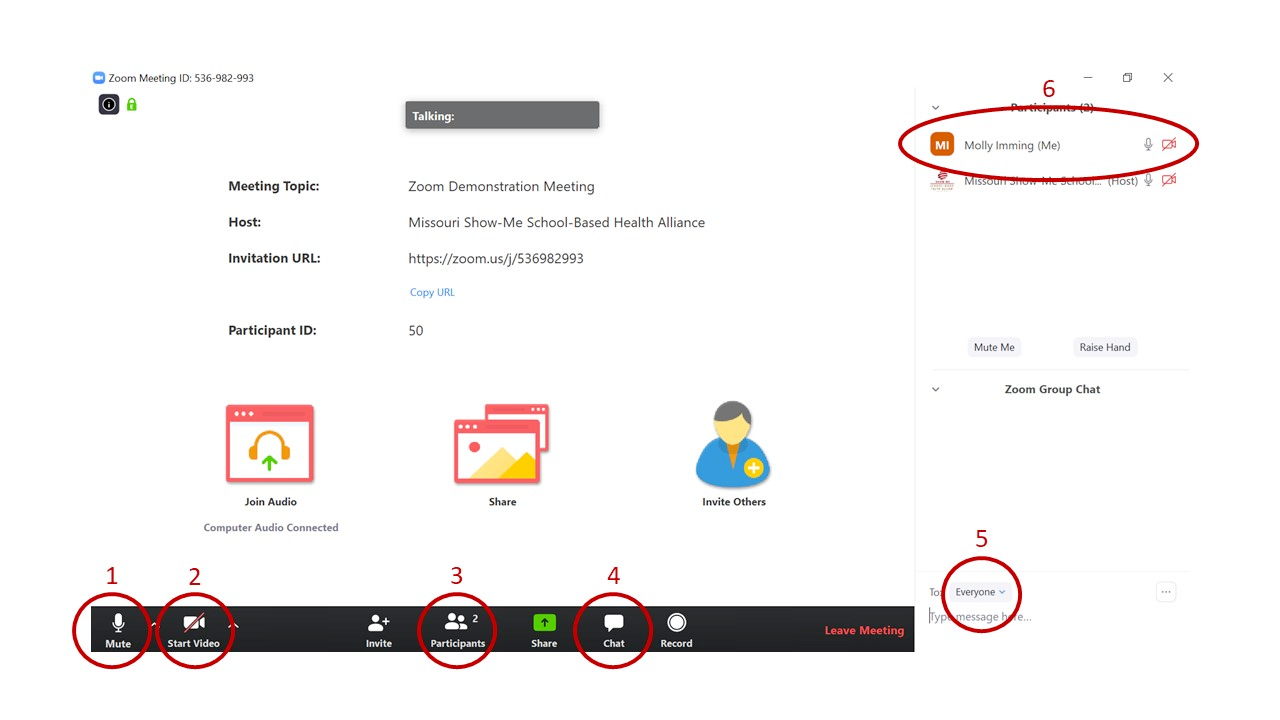 Mute/Unmute - click here to mute and unmute your computer audio.
Video - will allow other participants to view you and/or wherever your webcam is directed. Click here again if you would like to turn off your webcam and stop presenting your webcam video.
Participants - selecting this icon will present a list of the other attendees on the right side of your screen.
Chat—selecting this icon will open a chat window on the right side of your screen. This will allow you to send messages to the entire group or the host.
Chat To—click this drop-down menu to select "Host" to send a message only the host can see.
Participant List—your name will appear on the participant list. If the microphone icon next to your name is black, you are unmuted; if it is red with a line through it, you are muted. Similarly, if your camera is black, you are projecting your webcam. You are not projecting your webcam if it is red with a line.
Check audio settings
Click your profile picture, then click Settings .
Click the Audio tab. Under Speaker or Microphone, you can do the following:



Test your speaker.
Select the speaker you want to use in the drop-down menu.
Use the Output Volume slider to increase or decrease the output volume.
To change the microphone or speaker during a meeting, click the upward arrow beside the Mute option on the control toolbar.
Troubleshooting video and audio in the meeting
Zoom needs permission to use your camera and microphone. You will be asked to allow access the first time you join. After that, you can change the setting to allow by clicking on the camera icon

in the address bar and selecting the

Always Allow

option.

Ensure the Zoom is set to the correct camera, microphone, and speakers.

Unmute your microphone. At the bottom of the screen, click Mute on

Unmute your Windows / Mac device. And check the microphone sound/level

Restart the browser and/or device.

Ensure the current version of the Device, Browser, and Zoom are up to date.

Some Mac Computer settings might prevent Zoom from using your microphone:
Go to System Preference and click Security and Privacy.

Select Privacy > Microphone.

Tick the box next to Google Chrome or Firefox.