Downloading The Scores Template
Navigate to Upload Assessment Scores under the left navigation menu's My Creations > My Assessments section.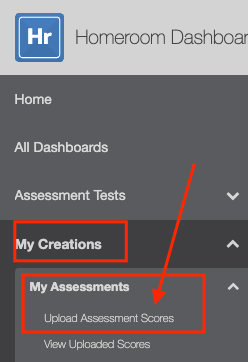 On the left side, under the "1. Download" area, do the following:
Next, click Assessment Tests, and select one or more assessments from the list. If strands are part of the assessment, they will automatically be selected after clicking Add.
Click Student Groups, and select one or more groups of students to include.
Student Identifiers, by default SSID & Homeroom Student ID, are selected.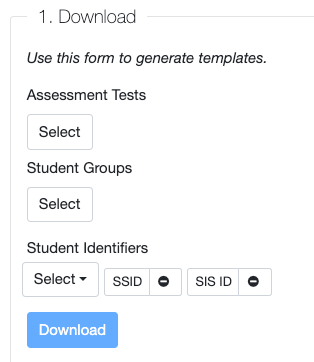 Click Download. A spreadsheet is downloaded to your computer with a generic file name. We recommend renaming the file to something that will help to identify it. Using the assessment name, student group name, and/or date are good options to include.
Entering and Uploading Students' Scores
Open the scores spreadsheet generated above. Student Names and IDs do not have to be entered because they are already populated.
OPTIONAL, add test administration or test date for reference. Test Date is used in Progress Monitoring and Test Administration to create multiple displays of the same assessment that might be administered more than once.
Manually enter students' scores. The spreadsheet has been programmed so that invalid scores cannot be entered, do not edit ANY column names or other information provided in either format.
Save the file.
Navigate back to Homeroom. Click 'My Creations,' then click 'My Assessments,' and then click 'Upload Assessment Scores.'
On the right side, under "2. Upload", click Browse. Next, locate your saved file on your computer and click Upload.

Viewing the results
You will receive an email letting you know whether the upload was successful. If there are any errors you aren't sure about, contact support@schooldata.net.
Navigate to a Dashboard and an Assessments container. Click Launch Viewer.
Select the Student Group whose scores were uploaded. Select the Assessment. Click Launch View.