Login to https://[yourdistrict}.schooldata.net/v2/high-school-and-beyond/#/four-year-planning/
Click Create New Four-Year Plan from the left navigation menu.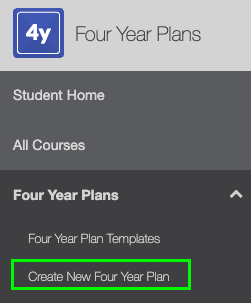 Fill out all Required fields.
Name of Plan: A Title or Name of a Plan you will remember.
Career Cluster: Select one of the Career Cluster options.
Career Preference #1: SELECT means you can select one of the options for Career Preference #2. TEXT means you can type in a Career in Career Preference #2.
Career Preference #2: You can either SELECT a Career or type one using TEXT Input, depending on your Career Preference #1 selection.
Four-Year Plan Template: Select the Template you'd like to use to build your plan.
Student Notes: This is optional, but you can write notes to educators.
Educator Notes: Here is where Educators can write notes back to you.
Post Secondary Plan: Select one of the options available for what you'd like to do after High School.
Graduation Pathway: Select the pathway you'd like to use to graduate.
Click Save when finished.
Schedule
Now add courses to your Four Year Plan (IMPORTANT! You will only fill out Future Years. Your prior year courses will appear automatically. For example, if you are in 9th grade, you will only fill out 10th, 11th, and 12th-grade courses.)
Your schedule includes completed (past) and scheduled (current) courses. It also suggests courses for planned (future) grades/years.
Click View Mode To Click Edit to change the courses for a planned year.

To add courses, hover over one of the Orange Graduation Requirements and click Choose Course.

The list of courses that appear will be filtered to your School, the Graduation Requirement you selected, and the Grade Level selected. To add a course, click on the checkmark to the left of the course.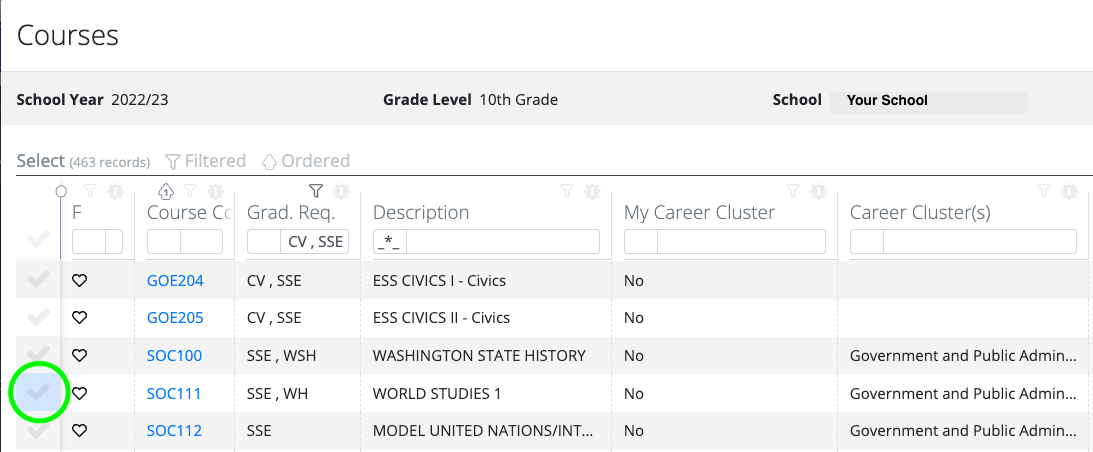 Now you will see your added course on your plan.

Continue to add the remaining courses to your plan.
Helpful tips:
To remove a course, click on the Red Minus Button to the right of the course.
If a course warning pops up, be sure to read the text. For example, it may mean Requirments Not Met (trying to add the wrong type of course to a certain space. Or the class may have a prerequisite.
>>>
Students may have as many plans as they wish, but only ONE plan can be the Primary Plan. A primary plan is the student's most serious plan. The primary plan also controls the student Graduation Monitor Tracker Bar and is used for reporting purposes.
Utilize the Career Cluster
Use the My Career Cluster Column and type in "yes," or use the funnel to select yes. This filters the choices list to only those with a career cluster matching what was selected on the details page on this Four Year Plan.
A different way to filter is to use the Career Cluster filter to select the one on the plan or any other career cluster to see the classes offered.
To learn more about a course: Click the Course Code blue hyperlink for a description, fees, prerequisites, co-requisites, or notes.
To mark a course for a later time: Click the heart icon to the left of the course code to favorite for quick access later.
Your advisor may "Lock" the plan to prevent any changes. You will need to contact them to "unlock" it.