There are two ways to complete the requirement to develop a resume.
First, the Resume Builder guides you through creating a resume step by step.
Or if you already have a Resume, you can upload it directly into the system.
Log into Career Planner: https://[yourdistrict].schooldata.net/v2/career-planner.
In the left-hand navigation, select Resume. It can also be accessed from the Assemble My Portfolio>>Resumes Tab.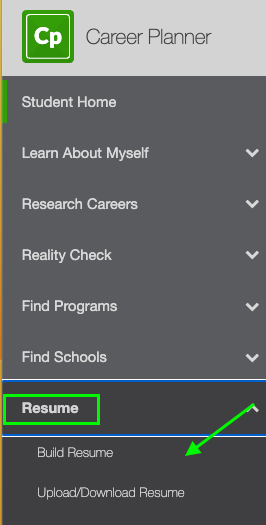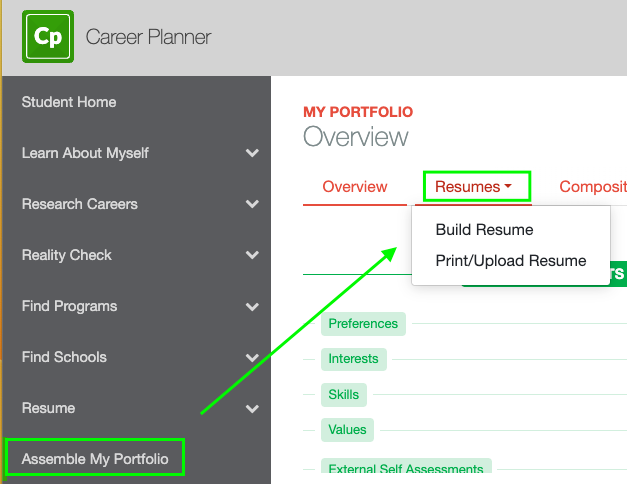 Build My Resume
Select Build My Resume. Open each category by clicking the caret (down arrow) to fill in your information.

Personal Details
This includes your name, address, telephone number (s), email address(s), and URL if you have a personal website. NOTE: Though several areas are optional, you may be required to provide additional information for an employer.
Required - First Name, Last Name, Email Address
Optional - Middle Name, Address 1, Address 2, City, State, Zip Code, Personal Website, Home Phone, Cell Phone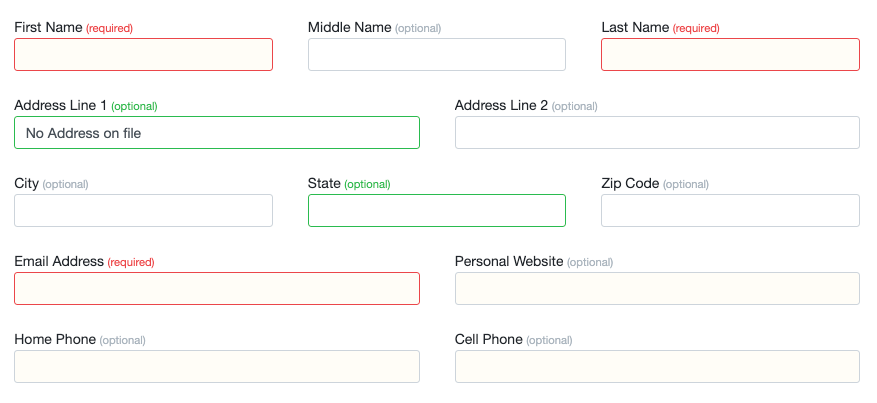 Objective
The objective states the job you are applying for or the area in which you are applying. Example: To obtain a position in sales with a viable opportunity for advancement. This area is optional.

Skills and Qualifications
State the unique skills and qualifications that might relate to your objective and what you will bring to the job. Again, this is where you want the employer to recognize the advantages of hiring you over another person.
Refer to the Learn About Myself surveys or use the Resume and Skills Qualifications Worksheet for more information.
If you don't have relevant experience, emphazie the skills and qualifications you have developed.

Education Experience
Click "Add Record" to open a web form.

A new pop-up window will appear. Fill in the required information. Always start with the most recent first.

List your Institution (high school or college) and the Start Date (the year you began).
If you have yet to graduate, state Program: "Candidate to Graduate (Date Expecting to Graduate)."
If you have taken any college courses, list the institution (college) and the start date (the year you began). If you intend to complete a college degree, state Program: "Candidate for (Degree, Discipline)."
End Date - Leave blank for present (optional)
Certificate or Degree Obtained (optional)
Exclude from Resume Print (optional - True/False) This is for printing. For example, you may wish to exclude the information on particular resumes but use the information in others. Marking True will prevent the information from being printed in your final resume. Marking False will allow it to be printed in the final resume.
Click the "Add" button in the top right to finish. If you don't see an "Add" button but have a "Validate" button instead, this means not all required fields have been filled in. When the missing data is added, the button text will be updated to "Add."
To edit or delete the data, click on the gear icon to the right of the entry, then make your selection.


References
Click "Add Record" to open a web form.

A new pop-up window will appear. Fill in the required information. Always start with the most recent first.
Add the Name, Job Title/Company, Home/Cell Phone Number, and Email address for each of your references. ( address and website are optional). Ask any person you would like to use as a reference for permission.
NOTE: It is recommended to have three(3) references that draw from various sources (Work, Volunteer, Educational, Activities). This is also a great place to draw Letters of Recommendation from.