Quick Links
Career Research helps you explore many careers that fit you best. Of course, you want to work in a career where you are happy to go to work, so career research helps you know everything about careers. What will you do every day? How much does it pay? What is the training required? Will there be jobs in the future? Who hires people in these jobs? These are important factors to consider when making decisions about your future.
Career Search (back to

quick links

)
Career Search is a versatile tool that lets you quickly look up careers.
Log into Career Planner: https://[yourdistrict].schooldata.net/v2/career-planner
Career Planner may also be accessed from your High School and Beyond Application.
Click Research Careers>>Career Search in the left-hand navigation menu.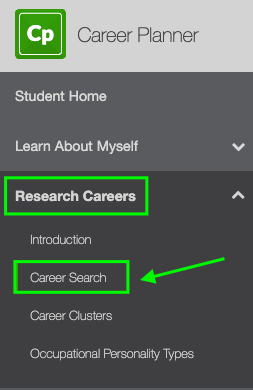 Like other pages, click on

hearts to save a career to your favorites, or click on a career name to learn more about it.
Searching and Sorting (back to

quick links

)
You can type all or part of a word in any search box to find a list of matching careers. In the example below, typing "nurse" in the Career search box returns all careers with "nurse" in the career name. Note that "Nursery Workers" is included because "nurse" is part of the name.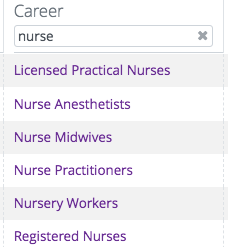 Careers are automatically sorted A-Z by career name, but you can also sort by any other field by clicking on the header. In the example below, clicking the "Cluster" header has sorted all careers alphabetically by Cluster.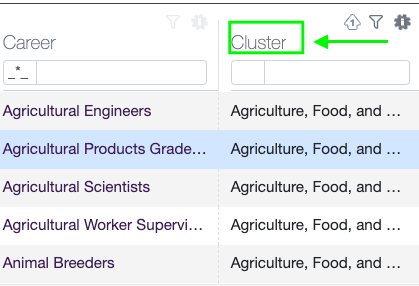 Filtering Careers (back to

quick links

)
There are several different filter options to narrow down your list of interesting careers quickly. Click on Column Actions & Options Gear or the Column Filter to view other selections.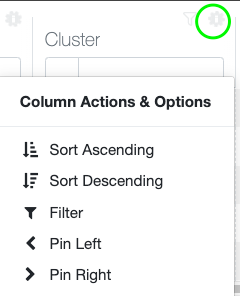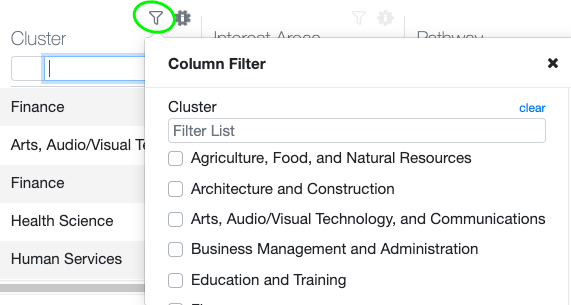 For example, if you want to see just the careers you've favored in other parts of Career Planner, toggle the heart column filter to "Favorited."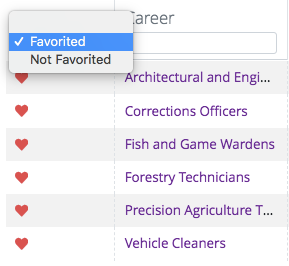 Another example is if you want to see the careers recommended in Review My Traits. Recall that the strongest matches in Review My Traits matched your results for both the Preferences and the Interests surveys. Therefore, to see these careers in Career Search, selecting "Yes" for both "Suggested by Preferences" and "Suggested by Interests" will give you a list of your two-star career matches.

Career Clusters (back to

quick links

)
Career Clusters breaks down all careers in Career Planner into sixteen (16) career fields or clusters. If you are just starting your career research, this is an excellent place to begin; you will learn the basics of each job type, the education, and training you can expect to invest, and compare wages for specific jobs in that field.
Remember to favorite

careers you discover along the way!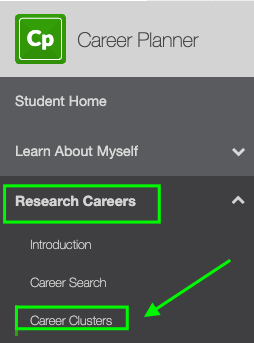 Each Career Cluster has its page; click on any picture for a closer look into that cluster.

Each Career Cluster page briefly describes why the field might appeal to you and summarizes the career paths in that field. You can also hop straight to a list of all careers in that cluster. You can do this by clicking the link under the picture at the top right of the screen ("see all careers in this cluster").

Career Pathways (back to

quick links

)
There are a lot of careers out there, and even within a single Career Cluster, you can see plenty of variety.
Career Pathways further breaks down a Career Cluster to help you better understand your options in that field. Each pathway has its summary and list of careers. To see a complete list of careers for a pathway, click the (see all careers) link.

Wages will give you two columns with dollar amounts. The first column is the National Annual Median Wage for each career, and the second is the Washington Annual Median Wage.
National Annual Median Wage gives you an idea of how much the average worker in the United States earns every year after spending several years in that career. One way to think of it is "about 50% of workers earn this much or more yearly."
Washington's Annual Median Wage is like the National Annual Median Wage, except it only looks at workers in Washington State. It is worth remembering that you may earn more money in specific locations, but living there may also cost more.

Clicking on a career with give you more information. An average yearly salary, career summary, and a button to "Dig Deeper."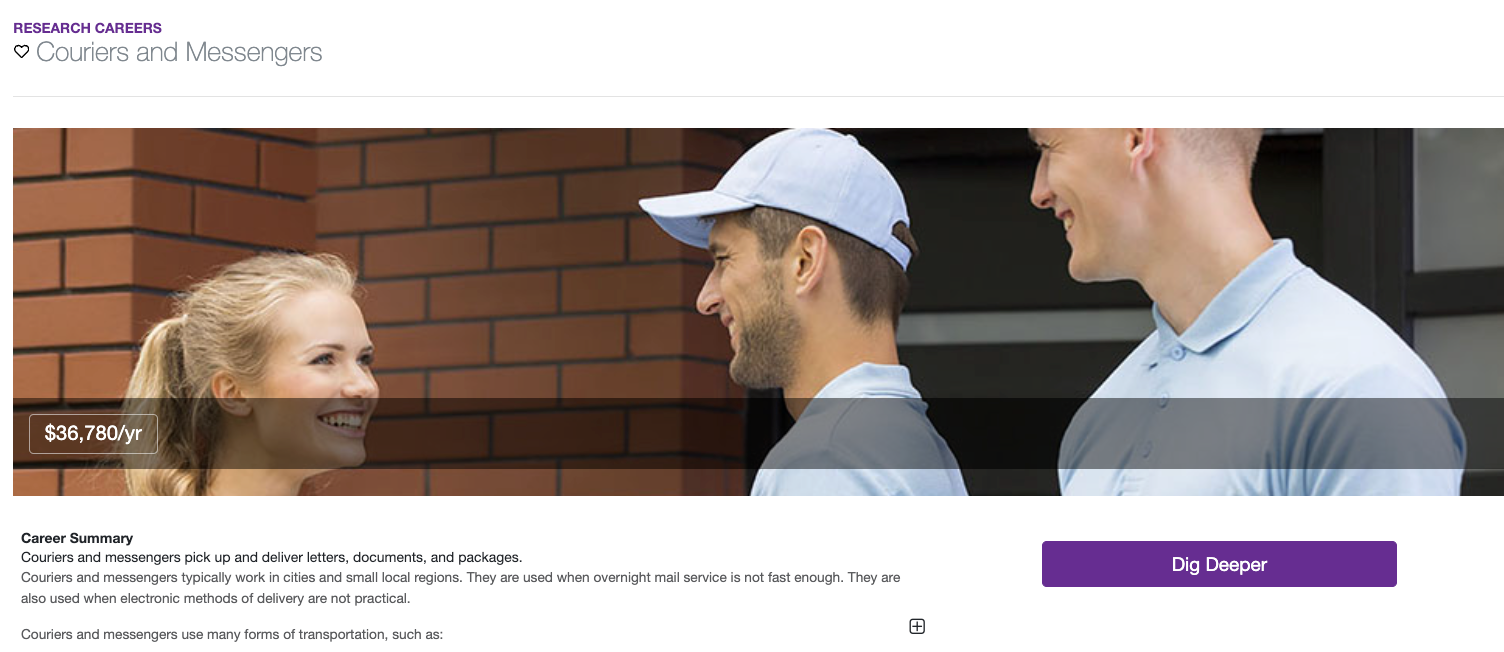 Digging Deeper will provide you with an assortment of tabs for further information. These sections summarize the education and training expectations for the field and break them down:
Duties (Tasks, Common Work Activities),
Requirements (Working Conditions, Physical Demands, Skills, and Abilities),
Training (Degrees, Certificates, Licenses, Exams, Education after High School, Volunteer/Work Experience, On-the-Job, Military, Helpful High School Courses),
Wages (Wages in various states, locations, and pay periods, 10/25/50/75/90% of people make this wage or less) Median = 50%. A lot of factors into a person's wages, but entry-level positions will generally fall between 10-25%, while people with much more experience and education might expect to fall between 75-90%. ((U.S. Bureau of Labor Statistics, 2017)
Employment (an overview of growth in the field, demand)
Things to Know
Resources
Video
Related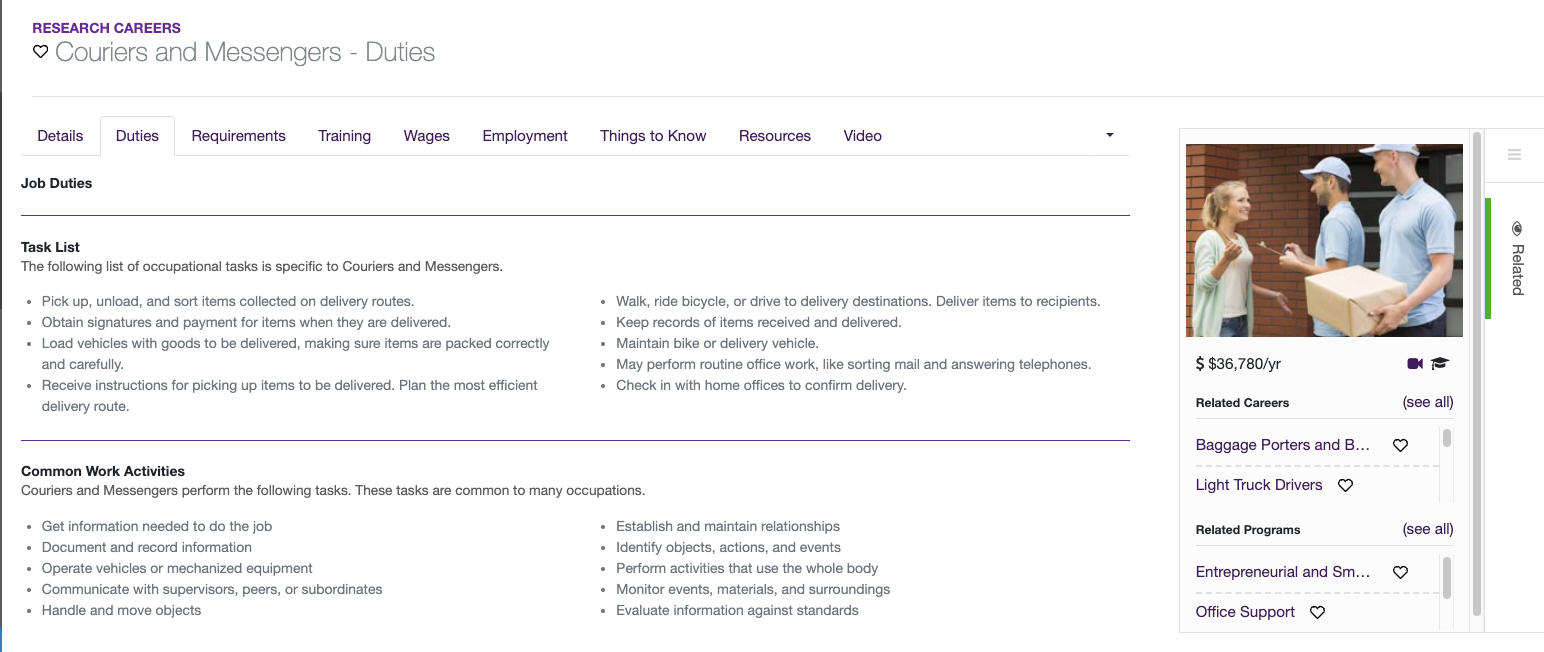 Occupational Personality Types (back to

quick links

)
Exploring careers by personality type can help you find a career that you enjoy, and that plays to your strengths. Do you like team projects, or do you prefer to work alone? Do you find it easier to work if you're outdoors and moving around, or do you concentrate better working at a desk?
If you have already taken the Interests survey, you can start with your Top 3 Occupational Personality Types from your survey results. If you haven't, pick something that appeals to you and start clicking!
Don't forget to

favorite interesting careers along the way.
Click Research Careers > Occupation Personality Types in the left-hand menu.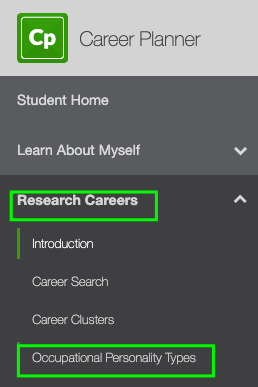 Click on any picture to learn more about the career matches for that personality type.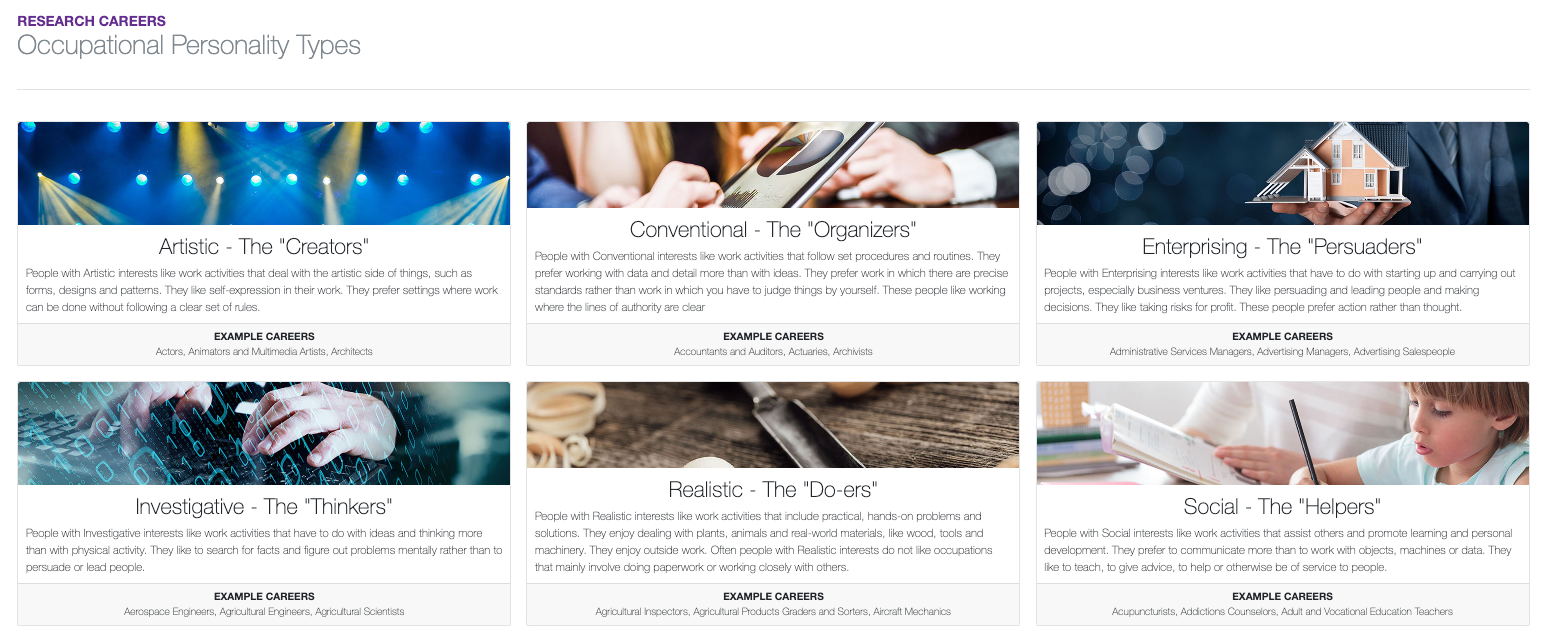 Each page lists careers that may fit that personality type well. In addition, each career lists the Cluster, Interest Areas, Pathway, and Personality Type and whether a video for it is available.

In addition, it will note with a star whether it was part of your Preferences, Interests, Programs, or School.