Although student accounts typically migrate from the Student Information System (SIS), there are a couple of situations where you might need to create a temporary student account so you can begin building the Student Learning Plan before the student is entered into the SIS:
Student is enrolling and participating on the same day

Incoming Kindergarten students are not yet enrolled in the SIS
Creating a Student Record for ALE
This can be done by either the Registrar or Secretary roles via "Create Student for ALE" link in the left nav.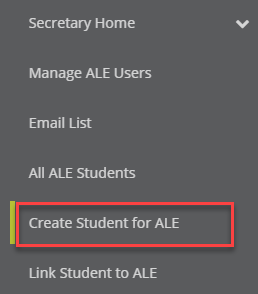 Enter the student's first and last name in the form. These are the only two required fields, but if you know the student's SSID or Other ID, it is best to enter it now. If one of these two numbers is entered when the record is created, as soon as data begins migrating from the Student Information System, this created record will automatically be linked with their actual student record and no further action is required on your part.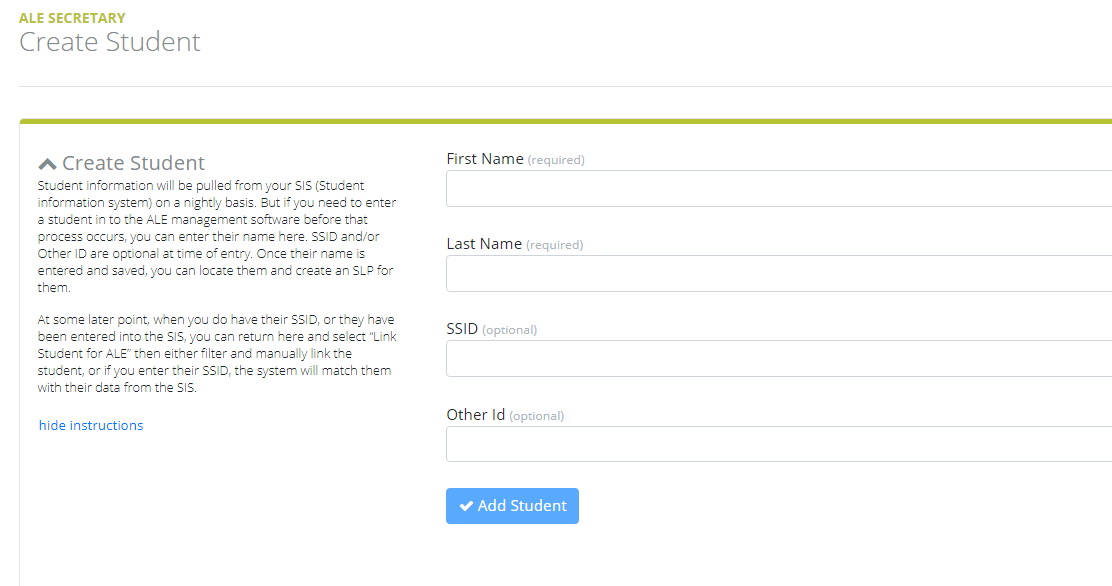 The created student will now be available in the Student Selector so that you can Initiate a Student Learning Plan for them immediately.
Linking a Student Record to ALE
If you did not have an SSID or Other ID to enter when you created the record, once the student has been entered in the Student Information System and records are migrating, you will need to manually link the records via the "Link Student to ALE." This is available in the left nav for both the Secretary and Registrar roles.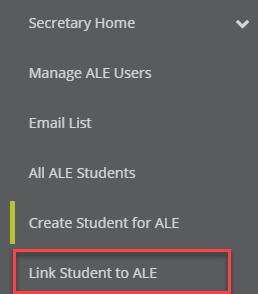 Once a student has a created and un-linked record, it will display in this table. Using the row action gear, you can choose to search for the student to link by name, enter the SSID or enter Other ID:

There is also the option to "delete" a created record, which should only be done if the student record was never used to create a student learning plan.
Once one of the three options is selected to link the student record, the records will be permanently merged and the student name will no longer be included in this table.