Many districts must update their student information systems (SIS) with current service (program) enrollments, for instance, Title I, LAP, and ELL.  The state requires those updates and must be reported with grant funding.
Often, the information is updated with several district staff members, including grant coordinators, specialists, and district administration.  If those people are still getting familiar with the district's SIS, reaching a current list of student program enrollments and merging it with potential student enrollments can be challenging.
 In this demonstration, we use Homeroom to get a list of current and potential students.  When combined, this list can be used to update the SIS.  For example, this process can identify Special Education, English Language Learners, or any particular program your district must track.
CURRENT SERVICE STUDENTS
To see the students with the Services Currently On, log in to Homeroom Dashboards and select Student Groups, then Create  v1 Students Group from the left-hand column.  Next, select the Filter & Create tab.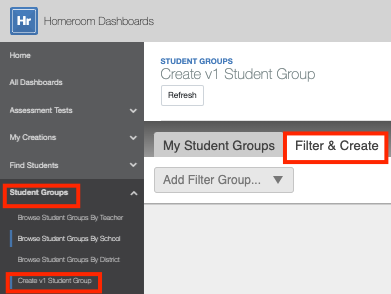 Next, apply two filters from the Add Filter Group drop-down, Enrollments and Services.
In the

Enrollments

filter, choose the current

School Year

and the

Schools

and/or

Grades

you are interested in. 

In the

Services

filter, choose the

Service(s)

you are interested in and the option

Currently On

.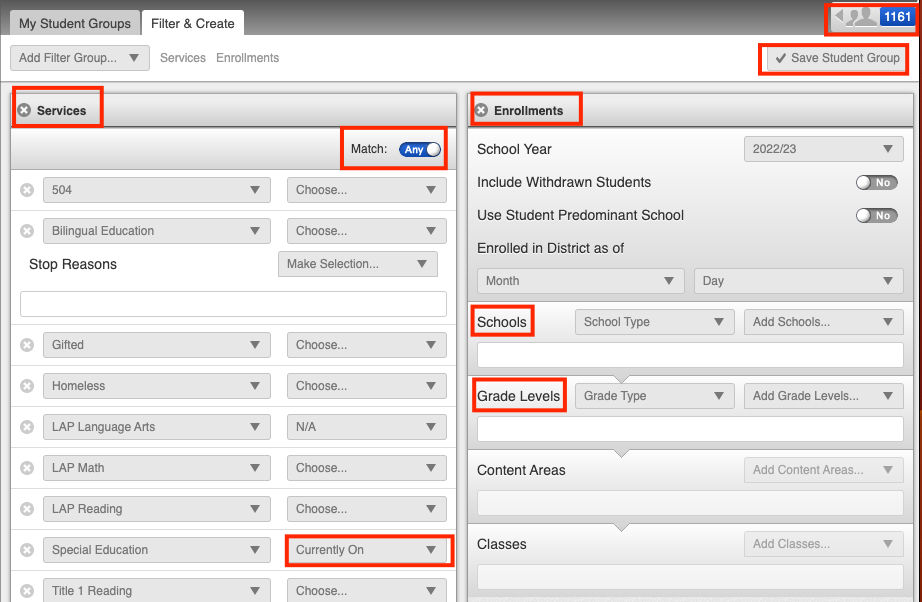 NOTE:  
Your selections will change the number of students filtered (in the top right corner).

The default setting is

Match Any

(in the top right corner).  If multiple interventions are chosen, The filter will display a list of students currently on at least one of those services.  They do not have to be on all of the selected services.  
Click Save Student Group in the top right corner when finished.
Now, give this group a name, like "Currently On." Next, turn on the Save as Smart Group and Save.  This group will reflect any updates you make to your SIS system.  A new student group will now be created under your My Student Groups.
Click on the Action Gear to the group's left to review the student list.  This will open a list of students to the right.  Here you will have available Actions in a drop-down menu to Edit, Print List of Students, Copy/Share Student Group to Other Users, Download an XLSX of this Group or Delete this Group.

POTENTIAL SERVICES ENROLLMENTS
For this demonstration, we will create a group of likely students based on the assessment scores of all Kindergarteners in our district.
To identify those Kindergartners who could be served, navigate to the Launch Assessments found under the Assessments Tests in the left-hand column of Homeroom Dashboards.  Then select the Assessment container of your choice.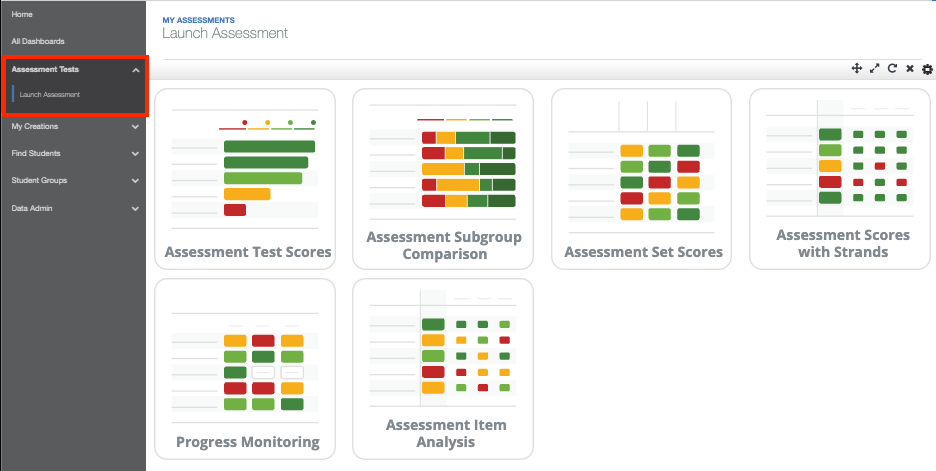 "Start Here" Pick the Student Group you would like to view.  

In this case, it would be All Kindergartners in the Current School Year.

"Now Do This" Select an Assessment by clicking on the checkmark next to your chosen assessment.  In this case, "K Rdg Risk Analysis - Entry" and then Launch View.

To hide the students who do not need to be served, click the Performance Levels drop-down, and select those groups that are at risk.  You want to hide the students who do not need to be served (green, low-risk students, meeting the standard or levels 3 and 4).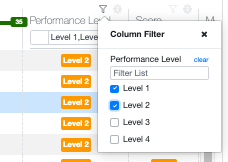 Now, create a Static Group based on these at-risk students.
First, select the check mark to the left of the some-risk students or select all by clicking the top checkmark.  Select View Selected Students.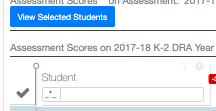 A new window will open, listing all the students.  Again, select the check mark to the left of the some-risk students or click Select All in the top left corner.
Click Add Selected Students to Static Group in the bottom right corner.  A new window will open.  Create a New Group.  In this case, "Kinder Some/High Risk" and then select Create.
If you would like to add additional selected students, choose Add Selected Students to Static Group; instead of creating a new group, select your previous group and click Add To.
Return to  My Student Groups to Edit, Print, Copy/Share, Download, or Delete.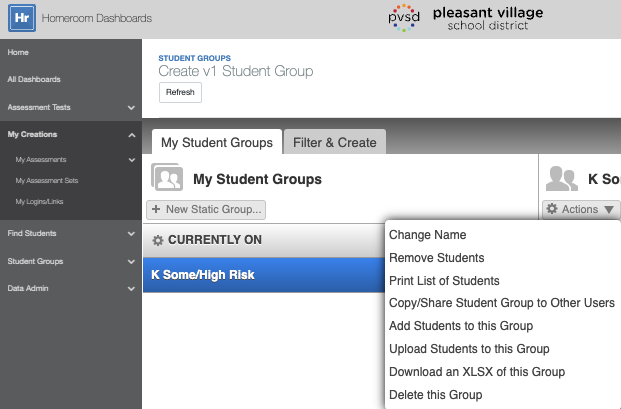 You now have two files that can be merged.  You can manipulate that file in whichever manner you wish. 
In this case, you can use the information to update your SIS system.  Twenty-four (24) hours after the SIS system is updated with the correct program or service enrollments, the Smart group you created, in this case, "Currently ON," will reflect the current and accurate list of students served by the program.