Gradebook Assignment Scores 
The Gradebook Assignment Score download is a spreadsheet consisting of student information, term grades if available and assignment grades, broken out by category if applicable.  The Students names can be removed so only an identifier is in the spreadsheet.
To download choose a gradebook, click the Scoring tab, click the Actions button then choose Download Gradebook Assignment Scores.  ClickDownload Data Table to download the default spreadsheet, which has the Student name and SSID included.  Or too remove the student name from the spreadsheet click Anonymize Students.  This will also allow you to choose a Student Identifier, either SSID or District Student Id, to download in the spreadsheet.  Click Download Data Table to download the data.
Class Roster
The class roster is an alphabetized list of the students in the class, with some added columns.  The default roster includes two columns with the header of Y and N. This can be used to as a check list for any number of things:
forms that need to be handed in
assignments that still need to be done
attendance for fire drills
printed for substitutes to use
To print choose a gradebook, click the Actions button and choose Generate Class Roster Report.

You can remove a column by clicking the - button to the right of the column header, or you can change the column header by typing in the box.  More columns can be added by clicking the +Add Columns button.  Click the Download Report button to generate the roster.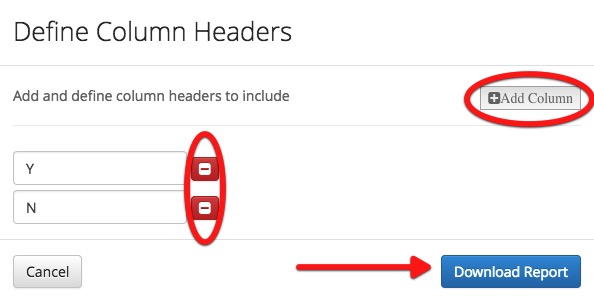 In the example above the extra column added was labeled 'Maybe'.
Grade Distribution Report
The Grade Distribution Report is a pdf consisting of a view of the students grades ranked from highest to lowest, some class information in the header and some statistics in the footer.  It can be printed for a single assignment or for the class term grades.
For the single assignment, choose an assignment that has scores, click the Scoring tab, Actions, then choose Download Grade Distribution.
For class term grades choose the gradebook, then the Grading tab, Actions, then choose Download Grade Distribution Report.
Progress Report
The progress report can be configured per district, but most consists of a pdf of all the students,  assignments, assignment description and their grades to date.  
To find the Progress Report, choose a gradebook, click the Grading tab and choose Progress Report.  You can Filter Students by name, choose the check box to the right of Student Name to choose all the students in the list, or click individual students.  When students are selected, click the download button and your pdf will begin generating.
You can choose the semester the progress report is being printed in.  The progress report only prints current progress, it does not print historical progress.  
A generic message can be added to the bottom of the report card by typing the message into the Report Message box.