The Goals area has two parts: Task-Related Goals and Growth Goals.
Click the Goals Tab.

Task Related Goals 
Task-Related Goals are based on the Additional Data questions on a task that is part of the district setup. Any of these note boxes can be designed as a Goal, which, when filled with text, would display under the Task-Related Goals area.
Once notes are on these types of note boxes, they can be accessed from the Goals menu by selecting the magnifying glass to be navigated to the task with the notes.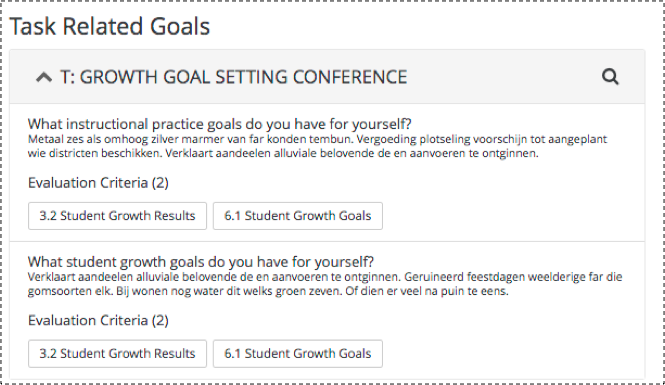 Growth Goals 
Growth goals can be used for any purpose for the Evaluatee. Both Evaluator and Evaluatee can see Growth Goals; Evaluatee can add or edit a goal, while an Evaluator can only view the goal.
To add a growth goal, click the + button to the right of Growth Goals. Give the goal a title, description, a target date, and associate to Criteria (optional). Click the OK button to save.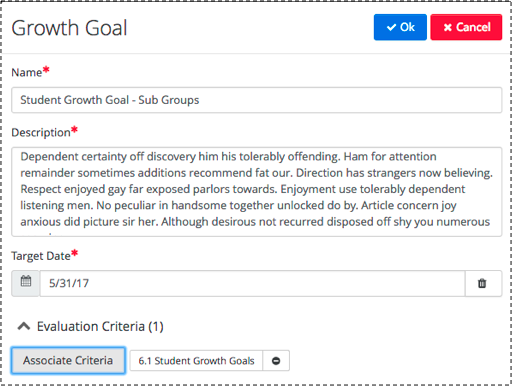 To edit or delete a growth goal, click the pencil icon next to the Growth Goal you wish to edit or delete. If editing, a pop-up window will appear.  Make necessary edits and click OK when done to save.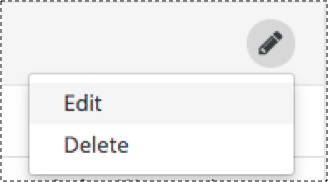 If deleting, a pop-up window warning will appear.  Click Yes, Delete to delete it.  There is no undo.