[created 4/10/17 dmr]

The PLC (Professional Learning Community) area has three parts: Meetings, My Community (formerly PLC Members), and Community Resources.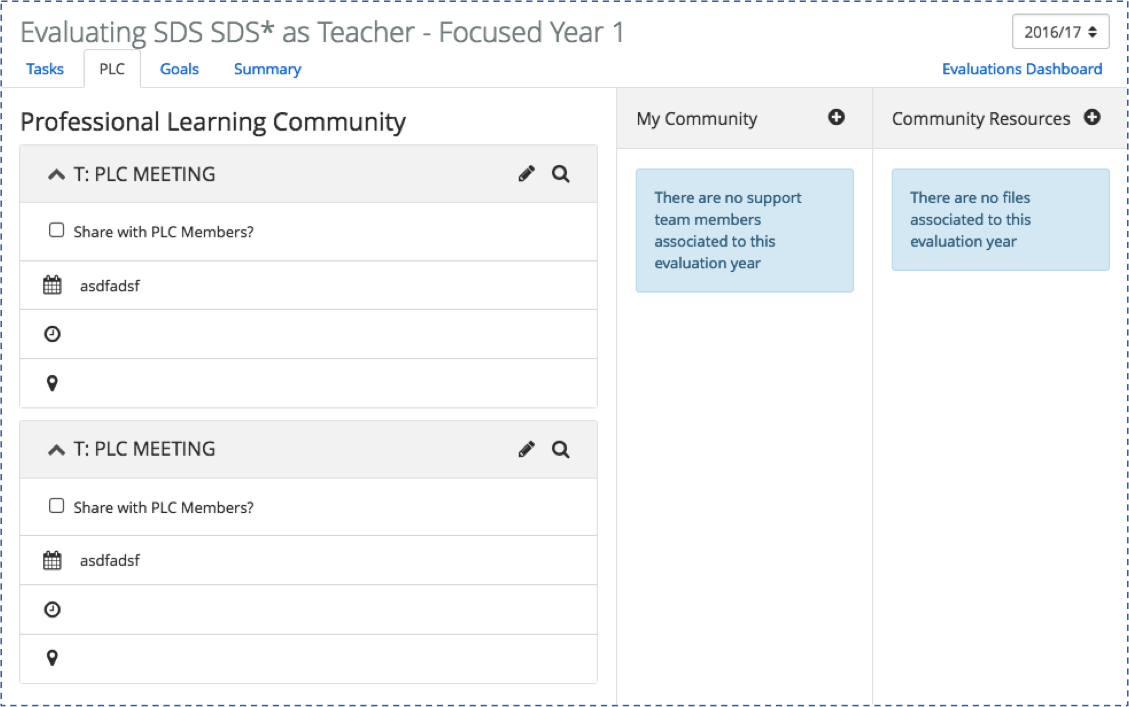 In this section of the PLC area, any tasks that are designated as PLC Meetings will display. If no PLC Meetings are listed, navigate back to the Task List and add a PLC task.
Pencil button allows the user to enter meeting details on the task. 
Magnifying glass button takes you directly to that PLC task on the task list for the user to view or edit. See Task Overview and Options article for questions on how to edit the task.
Share with PLC Members? checkmark shares the task with those on the My Community list. See Sharing with PLC Members section below for more details.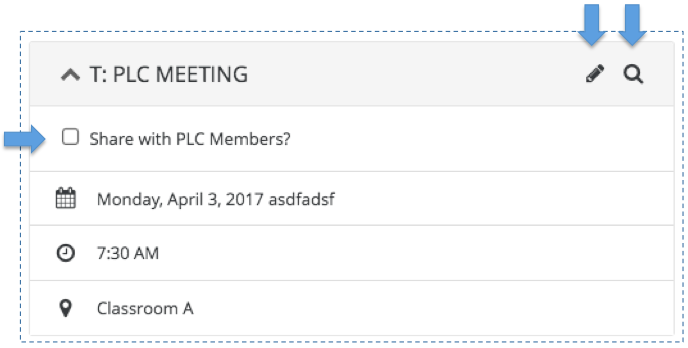 My Community (formerly PLC Members) 

[top of page]
Only Evaluatees can add or remove PLC team members from their My Community list. Once someone is added, any resources the Evaluatee adds or 
Click the + button to start adding Community/PLC Members
Search for their name, typing in all or part the last name or first name search boxes.
Click the + next to select them.
When finished picking from the list, click Adding Employees and they will be added to the Evaluatee's My Community list.
If a member needs to be removed, click the - button to the right of their name and click Yes, Delete. Anything that had been shared with them will be removed from their Task list or Resources list. (see Sharing with PLC Members and Community Resources)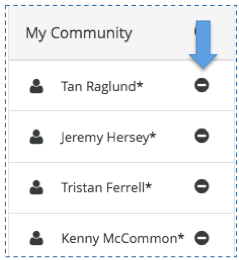 PLC tasks have an additional option that other tasks don't: Share w/ my PLC Members.
From the Meeting list on PLC tab, if the Evaluatee checks Share W/ my PLC Members the task is added to the task lists for ALL the PLC Members on that Evaluatee's Community list as a task. Everyone on the Member list now has the ability to add to the same task for all to see.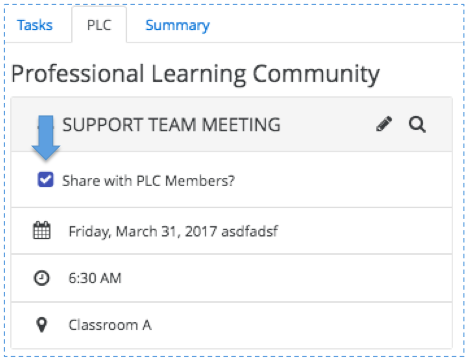 Shared Task displayed on another Evaluatee's Task List

Shared Task displayed on another Evaluatee's Task View:

Files added to the Community Resources are available to those on the Evaluatee's 'My Community' list and their Evaluator. 
To add a resource:
Click the + next to Community Resources
Click Choose File next to single select or Choose File next to multiple files, select from the files in your computer folders
When files are added to the upload window, click Start (next to each file if uploading multiple)
Once all are uploaded, click the X to close the upload window
To remove a resource:
click the - button next to the resource to remove.
A pop-up will ask if you are sure, as there is no undo. 
Click Yes, Delete if you are sure. This deletes it permanently and from the owner's and the PLC Member's resource lists.